Chapters Indigo: 68% Off Folkmanis Little Chipmunk Puppet was $16 now $5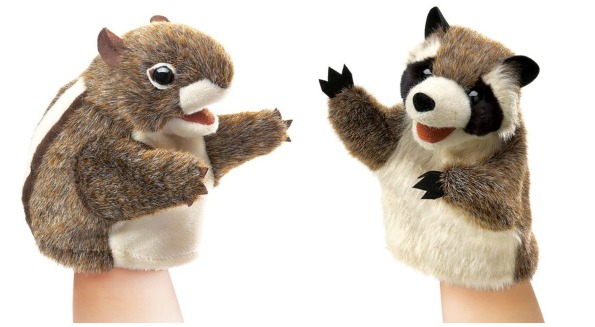 While I was dressing my son this morning, I pretended his dinosaur was telling him what to wear. He was cracking up at the dinosaur giving him orders and forgot how upset he was getting dressed. It just made me think how much he would love puppets. Chapters has many different Folkmanis Puppets on sale, with the Little Chipmunk Puppet at 68% off. It was $15.95 and is now only $5.
Sometimes I think it's good to go back to the basic with kids. Outdoor fun, board games and pretend games. Puppets give your child a chance to use their imaginations, create stories and adventures for their little critters. It's also a great communicative tool for parents to use with their children to get them to explain their feelings or thoughts through, or even to, these puppets.
These Folkmanis Puppets aren't your childhood puppets. The Little Chipmunk almost looks real! However, if you're looking for a different animal, they do have the Folkmanis Little Racoon Puppet which was $15.95 and is now $7.50.
Shipping is free to any store, and for any order over $25, so take advantage and buy a few puppets!
(Expiry: While supplies last)