Boston Pizza $4.95 Kids Meals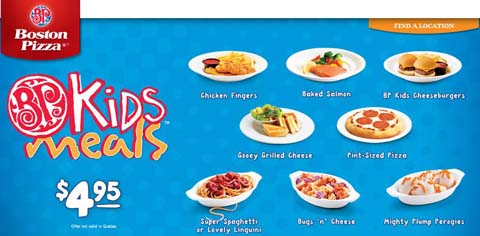 It's March break for kids and parents. Boston Pizza Kids Meals are only $4.95!
Usually $6.25, all Kids meals at Boston Pizza are now $4.95. Choose from delicious kids meals such as:
Chicken Fingers
Baked Salmon
BP Kids Cheeseburgers
Gooey Grilled Cheese
Pint-Sized Pizza
Super Spaghetti
Lovely Linguini
Bugs 'n' Cheese
Mighty Plump Perogies
All kids meals come with drink, dessert, and a Kids Fun Pack. This special price is only for March 2010.
I'm always so jealous of the prices and selection on kids menu, I would much rather have small portions and order a bunch of stuff than only eat one large entree for a hefty price.