Bioshock Infinite Only $1 @ Greenman Gaming ($33 Value) *HOT*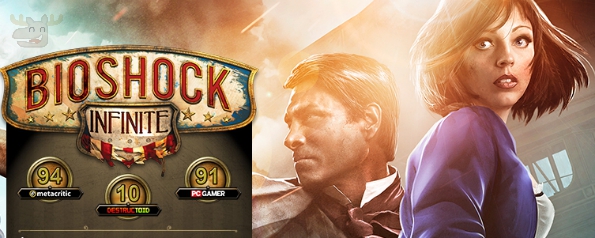 I ran across an adult gaming deal that I just cannot resist sharing with you! Greenman Gaming is offering Bioshock Infinite for just $1 when you vote in the Golden Joystick Awards. Anyone can vote, so anyone can take advantage of this sweet gaming deal.
The process is simple:
Vote
Redeem your game for $1
Play the game
Earn your $1 back!
That is right; you can actually earn back the $1 you pay for the game by playing the game. In the end, your copy of Bioshock Infinite will be free. If you were to purchase Bioshock Infinite at Steam, it would cost you $32.99. Greenman Gaming currently has the same game on sale for $20. Given that this game still has such a high value, I figured this was a deal certainly worth bringing to your attention.
This appears to be a Steam Powered redemption. When you create your GMG/Playfire account, you should use the same email as your Steam account as you will then need to link your Steam account on Playfire in order to receive your $1 voucher code for redemption. When voting and then claiming your game, also make sure that you use the same email address for both as it will use your email address to verify your eligibility for the game.
Reviewers on Steam are ecstatic about this game. One reviewer said:
BioShock Infinite towers over the rest of the competition in terms of history, involvement in the narrative coherence of what is shown on screen, and above all for the incredible artistic choices that have allowed Columbia to be built and Elizabeth were born and breathe
Another guy wanted his memory to be erased so he could go back and play the game again fresh! Others said they were speechless and stunned by Bioshock Infinite and overwhelmingly recommend it. Given such high praise, even I am tempted to get this game when it usually isn't my genre!
I assume that Greenman Gaming's price is in USD.
(Expiry: Unknown)