BigBox Outlet Store: Extra 50% Off All Skylanders - Starting @ $3.30!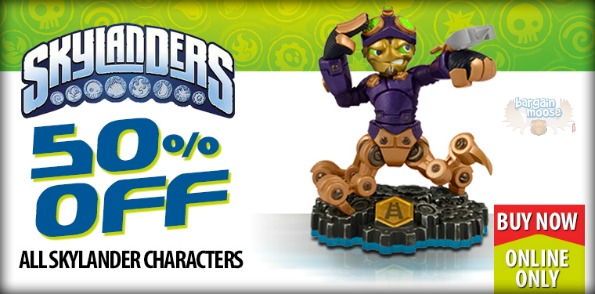 Big Box Outlet Store (currently transitioning from being known as Pricematters) is offering an extra 50% off all Skylander products they have in stock. Most of these are open box items so they have already been discounted from what you would see at a regular store.
Individual characters are just $3.30 each. You can pick up the following individual characters:
There are also four triple packs you can choose from. Each triple pack is only $7.15, which works out to approximately $2.38 per character. Which of these triple packs are you going to get?
All of these are open box and that is why they are so discounted. I tried to price compare with a regular retailer to see how much you are saving. At Best Buy, Skylanders Swap Force Triple Packs retail for $25.99 including the one with Gill Grunt (that I have linked to). Individual characters retail for $9.99 at Best Buy and many other retailers. At the Big Box Outlet store, you are getting them for 1/3rd their retail price.  These prices are really great. Though some people may shy away from open box items, I figure that I am going to open the box anyway so why not save some extra money by buying those items?
I have never played Skylanders, but it sounds like my kind of game. I love all the fun little figurines that are both collectable and that you use to play the game as well. While I am not big on extra game purchases, I could handle paying a few dollars for each new character I wanted.
There are limited quantities available. The Big Box Store offers free shipping on orders of $50 or more. Underneath that minimum, the cost of shipping depends on where you are shipping. This deal is only available online.
If you want to get started with Skylanders, check out the Starter Kit deal that Ivan posted about here.
(Expiry: Unknown)