Bicycle Classic Kids Cards Games, 6 Games For $10.54 Incl. Shipping @ Amazon.ca Marketplace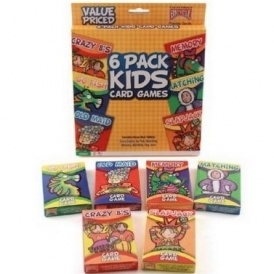 I'm sure all of you can remember Bicycle brand classic card games that you played as a kid. Crazy 8's, Old Maid, Memory, and Go Fish may be the most popular ones - then there are Matching and Slapjack in this set of 6 full card games for kids and adults. They were games you could sit and play for a long time, and if you were like my sisters and I, it turned out you could make up a bunch of rules to create new games.
Kids actually can get tired of the stimulation of video games and movies and would welcome a change of pace this summer. Especially if you sit and play these games with them. I love ordering items like this for the kids, and letting it be a surprise when it arrives. For only $10.54, with shipping included, this is only $1.75 per card game!
This item's list price is $28.80. For just over $10 including shipping, it's a great deal. This item will shop from Amazon.ca Marketplace Seller, Games & More!!!
Shipping is $3.59, so with the item price being $6.95, your total for this item, shipped is only $10.54.
(Deal expiry: Unknown.)