Future Shop Canada: Epic Mickey 2 For The Nintendo Wii U | Final Clearance $10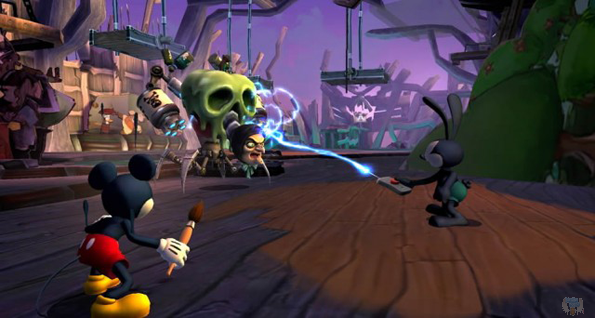 If you're a Disney fan, or even just a fan of adventure games on the Nintendo Wii U system, this deal just might intrigue you. Currently, Future Shop Canada is selling Epic Mickey 2: The Power Of Two for the Nintendo Wii U at a final clearance price of $9.97 (plus $5 shipping). Normally $34.99, this game has had its prices slashed several times since its release, but this is the lowest price I've ever seen for it.
Epic Mickey 2 allows you to play as two classic Disney characters: Mickey Mouse and Oswald the Lucky Rabbit. It's a fun adventure game that gives you plenty of different areas to explore.
I tried out the first Epic Mickey game for the original Wii system, and I thought it was a cute adventure that can have some challenging puzzles. It was pretty fun to play, and had some gorgeous visuals. Obviously, this Wii U sequel has even better graphics than the first instalment, and apparently has some creative ways for players to use the Wii U gamepad's touchscreen throughout the game.
The first Mickey Mouse video game that I played was Mickey Mousecapades for the original Nintendo system. I got it on Christmas when I was just 3 years old, and I vaguely remember my older brother being upset that I didn't pick Mega Man 2 instead (hey, I was 3! He had high expectations. Plus, I got Mega Man 2 on my 4th birthday - I was one lucky child!) Even though it was primitive and the gameplay wasn't the greatest, I still have warm memories of playing Mickey Mousecapades for the NES.
You can currently pick up this game on Amazon for $14.44 (only 2 are still in stock as of this writing) and it's $20.37 US on WalMart's American website. I've included a snippet of a review from Nintendo Power below:
There's a lot to like about Mickey's return to Wasteland, and the follow-up does improve on its predecessor in a number of ways.
For $10, you can't go wrong. Especially since this is a licensed Disney game, Epic Mickey 2 for the Wii U is an adventure worth exploring if you have the time to dive into it. Happy gaming, Bargainmoosers!
(Expiry: Unknown)