Bed Bath & Beyond Toy Clearance, Almost 50% off!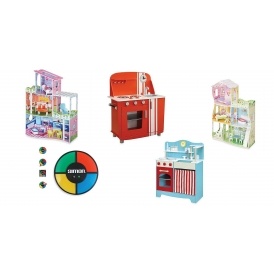 Bed Bath & Beyond is having a clearance/closeout sale on some really great toys for kids! At almost 50% off, some of these items are too good to pass up.
How many hours did you and your friends spend playing Simon? It's on sale for $14, down from $27! Remember humming the song in your head, desperately hoping to get the next note right? Then there was that loud buzzing noise that you hated to hear. There are different ways to play the game too, the part where you 'compose' your own tricky sequence was especially rewarding to stump someone on.

This Vintage Kitchen in Red is something that kids will enjoy cooking up some of their favourite dishes and it's only $70, down from $120. I like the clean, classic look. There is also a Country Kitchen for those who prefer a more neutral tone.

What really got my attention was this Garden Dollhouse on clearance for $70 down from $130. The decor in this house is nicely done, it's like a modern day retro theme. (What would you call this type of decor?) There is also Joanne's Mansion Dollhouse for the same price. Whoever Joanne is, she doesn't have to de-clutter it using instructional books and whatnot, because she sure keeps a neat and tidy home.
Shipping will vary on products depending on the total amount of your order, and starts at $5.99 for items under $25. Orders over $99 have free shipping!

(Deal expiry: Unknown)