Barbie Dreamhouse Was $180 Now $89 @ Walmart.ca (EXPIRED)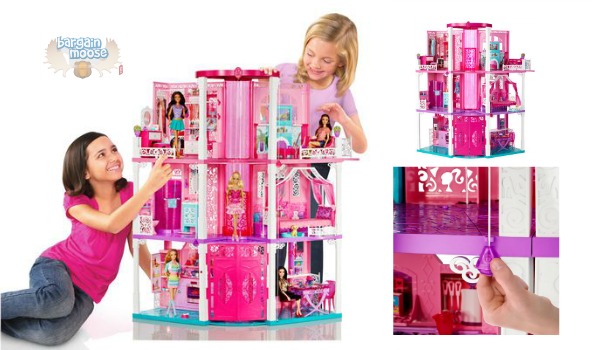 Barbie's Dreamhouse is on sale, it was $180 and it is now only $89. Walmart also has  free shipping  with no minimum. I suspect this item may go quickly as this is the deepest discount I  have seen yet on this dollhouse.
Barbie has had kind of a tough year. Early this year she moved out of her Malibu mansion.  Many squeals could be heard around the world from little girls (and adults!) wanting to move in. Then Elsa and Anna came along and knocked her down into the number two doll slot this year. Barbie is not taking it too hard though. She knows that despite Frozen being hot this year, she inspires lots of creative play with young girls. Without a pre-set storyline like the one Frozen has, Barbie can have any career, go anywhere and do anything. She still reigns on the toy market and is a classic toy to have in your toy box.
This dollhouse comes fully stacked with lots of features to encourage play. Any 11.5" doll can play in this house easily. The first feature about this dollhouse that strikes my eye is that elevator. Man oh man, that is a cool feature that my kid would play with for hours. It has a kitchen with stainless steel appliances and a light up stove. Barbie has a nicer kitchen than me! You can also flip the table over to serve breakfast or dinner. In the bathroom, the toilet really flushes and someone sings in the shower.  In Barbie's bed room a second trundle bed pulls out for sleepovers. Barbie can also go in her closet and pick out an outfit, then send it down a second elevator to her bathroom - best feature ever. Can someone install that closet/elevator combo in my house please?
When I was a little girl, I had a dollhouse that I played with endlessly. I truly loved that house and could spend hours re-enacting various things that had happened in my day. A dollhouse is a classic imaginative toy that allows kids an outlet to test what they see happening around them. Similar to a play kitchen, tool bench, cash register or set of play bottles and dolls, this toy allows children to explore in an open-ended fashion.
Many people are talking about this dream house. With over 120 reviews on Walmart's site alone, it manages to stay steady at 4 out of 5 stars. People are digging the house but you may want to set aside a chunk of time to assemble. Here are Mattel's instructions to get you started in putting this dollhouse together.
It is great, my daughter loves it and plays with it endlessly! It has so much to keep her busy. It is a little flimsy but I expected that with the plastic construction. I read reviews that it was a nightmare to assemble so my husband watched the YouTube video instructions and he had it together in no time.
This reviewer is loving the extra features this dollhouse includes.
I ordered this for my twin daughters for Christmas, and while it was not exactly a "dream" to build, it was worth it!  They haven't stopped playing with it since they got it and I know it will be used for years to come.  It comes with a lot of accessories, lights up, has realistic sound effects and was an amazing deal through WalMart!!!
You will not find a better deal on this house. London Drugs has it for $119 but it is in B.C. only and you must pick up in store. It sounds like they might have a limited stock. You can have it shipped to your door with Amazon if you are willing to pay a whopping $194.
Bargainmoosers what is your favourite toy from your childhood to share with the kids in your life?
(Expiry: Unknown)