Baby Alive Super Snacks Snackin' Noodles Baby $44.97 @ Amazon.ca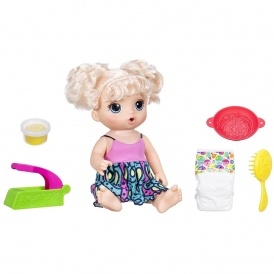 There are so many cool toys coming out this year. How can the kids decide on a favourite? One that has really intrigued a lot of little girls is the Baby Alive Super Snacks Snackin' Noodles Baby. This doll has quickly made it to the top of Holiday Toy Lists across Canada, and Amazon.ca even has it available at a reduced price. Act fast and you can snag it for $44.97 down from $59.99.
The Baby Alive Snackin' Noodles Baby is going to be so much fun. Kids can make noodle shapes with the reusable doll food, and they will giggle as teh Baby Alive doll slurps and burps.
There are five accessories included with this doll: noodles extruder, can of solid food, bowl, diaper and hair brush. After the doll has been fed, she will even "poop" so that your little one has to change her diaper!
What I love about this doll is that you can flip a switch to choose whether the doll addresses "mommy" or "daddy" which makes this a great little doll for boys too!
Amazon.ca offers free shipping on orders over $35.