75% Off Marvel Super Hero Mashers - Now $5 @ Walmart.ca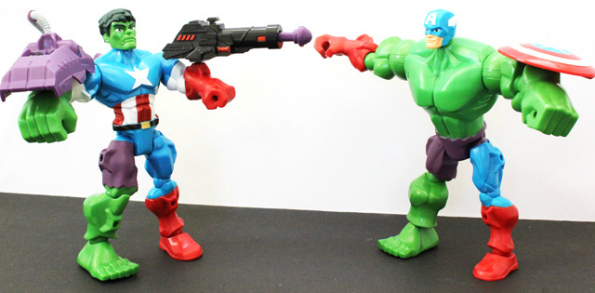 If you have a few Avengers fans in your family, then now is the time to stock up on Marvel Super Hero Mashers toys for them. At 75% off, you can get four toys for the original price of one.Originally $19.92 each, they are now $5 each.  This is a style of toy that you really want many of so they can swap parts. As per usual, get free shipping to your local Canada Post and/or free shipping on $60+.
There are three different characters on sale. When I think of mashers I actually think of smash - Hulk smash to be specific. You can purchase the Marvel Super Hero Mashers Hulk Figure for just $5. All his parts are removable so you can swap parts from other Super Hero Mashers figures. This is why it is a Super Hero Masher - you combine different parts of different heroes to create your own custom hero.
If you want to swap out parts, you need more than one hero. Create a Hulk/Thor hybrid when you purchase this Marvel Super Hero Mashers Thor Figure. Like Hulk - all his parts are swapable so you can have the head of the Hulk with the arms and torso of Thor and the legs of Hulk. Whatever combo works for you. The heroes also come within weapons. Thor has his hammer and The Hulk has a missile launcher.
What is fun with two is better with three. Add on this Marvel Super Hero Mashers Iron Patriot - which looks a lot like the unholy love-child of Iron Man and Captain America - to your Super Hero Mashup. he comes with an awesome blasting cannon as his weapon.
The fun is in swapping out parts so I highly recommend buying all three of these Marvel Super Hero Mashers so your child can take apart and then combine the pieces to make their own heroes.
Now, this toy says it is for ages 4+ but 5-year-old kids have had trouble snapping the heads and body parts together. You might want to consider your own child's development level when buying these toys. However, at 75% off I think these are well worth the cost even if you need to wait a year before they are playable.
(Expiry: Unknown)