(30% off) Under The Weather Tents from $100 Shipped @ Undertheweathertent.ca!

*Bump! These sale prices are back on, so snag one for the upcoming spring/summer sports!*
Great! Your kids love sports. But, what do you do when their sport is outdoors and it is cold and rainy outside? What do you do if your kids love to ice fish and you just want to keep warm? Well, you get an Under The Weather Tent of course. UnderTheWeatherTent.ca has all of their tents on sale for 30% off right now which means you will pay just $99.99 for a regular sized tent or $129.99 for an extra large size tent. They also have Squad Pods on sale for just $259.99. Shipping is also included.
Do you spend any time outdoors wishing you were sheltered from the weather? Well don't feel under the weather, get an Under The Weather Chair Tent. These tents are designed to take up about the same space as a chair but they will keep you safe from the elements. Prices start at $99.99 and increase from there, but that is 30% off the regular price which is quite an excellent discount for these handy items.
Under The Weather Tents in Regular Size on sale for $99.99:
White
Yellow & Red
Purple
Camoflage
Maroon
Under The Weather Tents in Extra Large Size on sale for $129.99:
Maroon
Navy
Red
Royal Blue
Squad Pods on sale for $259.99: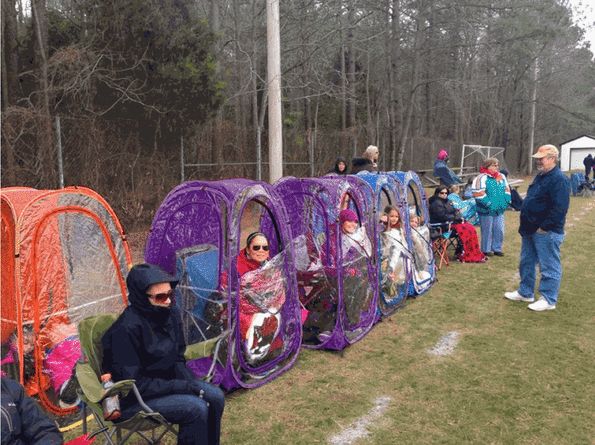 These soccer mom tents are a fabulous addition for any family. They are great for watching outdoor sports when it is too cold, too hot or too rainy. They are great for ice fishing, for at the beach while the kids play in the water, camping to keep bugs away, waiting outside a store for their boxing day blowout sales, reading a book at the buggy cottage, and so much more. I am sure you can think of one hundred more uses, and each family can use them for different things. The Extra Large Under The Weather Tents are even designed to keep your dog happy while at a dog show or possible even camping. Too convenient, right? Not to mention that they fold down into a carrying case that is so easy to store and only weighs just over 7 pounds.
UnderTheWeatherTent.ca also offers totally free shipping on all orders over $99, which basically means any Under The Weather Tent is going to qualify for that right now. The prices start at $99.99 so you don't have to worry about any additional shipping and handling charges which is pretty nifty.
Moosers, where would you use your Under The Weather Tent?
(Expiry: Unknown)