24h Only: 25% Off Resident Evil Revelations 2 @ Greenman Gaming With Promo Code - Now $30 (Expired)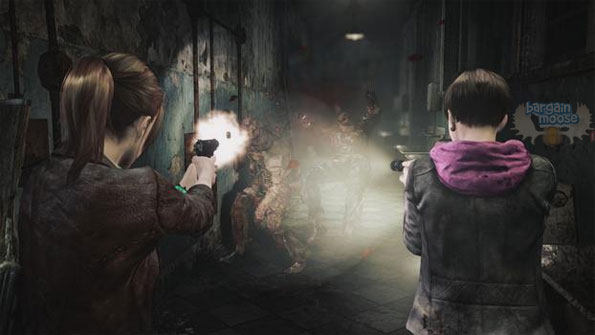 Are you excited about the new Resident Evil Revelations 2 game? Until tomorrow, you can use the Greenman Gaming coupon code below to get a 25% discount on this game. Featuring a retail price of $39.99, it can be yours for just $30 instead.
Click here to get Resident Evil Revelations 2 @ GreenmanGaming.com now
Coupon Code: 25OFFR-ESEVIL-REVEL2
Discount: 25% off Resident Evil Revelations 2
Expires: 25th February 2015 @ 5pm
Set to be released on February 25th, this single player game continues the story of Claire Redfield, a survivor of the Raccoon City incident, who now works for Terra Save, an anti-bioterrorism organization. She gets kidnapped and imprisoned in the very first episode and it will be your job to manoeuvre around the story line to get her out.
Resident Evil Revelations 2 comes with:
Episodes 1-4
Extra episodes for 1 & 2
Character costume pack
Raid mode character (Hunk & Wesker)
Raid mode throwback map pack
Unlike the previous Resident Evil Revelations 2 game, assistive co-op play is a key feature of the 2nd instalment. Here's what IGN's Lucy O'Brien had to say about it in her review of the first episode:
You can - and will likely want to - switch between characters on the fly. Although I would have liked more co-op puzzle solving, split-screen combat dynamics are particularly fun; as one character in each pair is significantly under-powered against enemies, you must learn to communicate with your partner in order to stay alive.
Other key features include but are not limited to weekly episodes, the return of Barry, new enemy types and much more.
Keep in mind that since Greenman Gaming specializes in the sale of PC games, you will only get a PC download of this a game. If you would prefer to get it on a console, then it's 5% off at Amazon.ca and can be yours for $37.99 for play on an Xbox 360, Xbox One, PlayStation 3 or PlayStation 4. It's set to be released on March 10th.
For those of you with a PlayStation, it has been said that following the official release of this game, it will be available on cross-buy, albeit with some prerequisites. This means that if you get it for the PS3, then you will also be able to play it on the PS4 and vice versa. However, this feature is only available to those to pre-order the game and it also won't be available immediately upon launch. Read more about it on Capcom's blog.