20% off Crayola @ Best Buy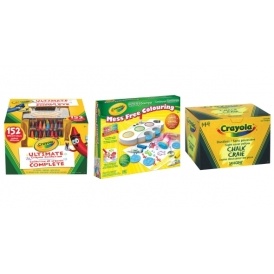 If you're looking for some inexpensive Easter gifts for kids, look no further. Best Buy is offering 20% (I saw some with higher percentages, just lower priced items) off Crayola products! Supplies start as low as $1.99.
If you'd like to send them outside for some fun during the Easter festivities, they have a great price on an 144 pack of Crayola Dustless Chalk. I remember spending hours colouring on our driveway as a kid; drawing initials and hopscotch games (do kids these days know hopscotch?!). They're $5 off at $7.99.
I think this is too cool. Also at $7.99, this Fabric Snaps Water Bottle Kit can help convince them to drink more water as they get to decorate their own bottle. The kit includes the water bottle and decorations; kids provide the creativity!
There are more creative kits like the Minions Sketcher Projector for $7 off at $22.99 and this neat Melt 'N Mold Factory that's $15 off!
Best Buy will ship orders for free over $25.
(Expires: 24th March 2016)