12V Pink Ride-On Truck w Parent Control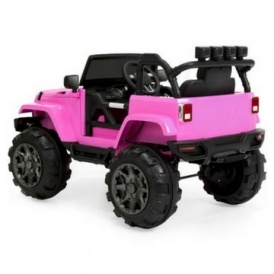 This pink ride-on truck is really sweet, and is on sale for $453.51 (reg. $699.99) at Best Choice Products. I know that may still seem a bit pricey, but it comes with the best feature ever! A remote control option for the parents.
My kids want a ride-on truck they can drive sooo badly. But we've always been hesitant because 1) they're expensive and 2) we know the drill, the kids start driving but give up mid-way around the block and the parents are left to push/carry/drag it the rest of the way home. After so many occurrences, the truck ends up being pushed to the back of the garage, forgotten.
But a remote control option is a game changer! If you are going to spend the money for one of these, you want it to be used, enjoyed and convenient.
Other key features of this truck include:
14" traction wheels, magnetic doors, spring suspension, LED lights
12V motor with 3 speed options (max 5 MPH)
Built-in music, radio and AUX jack, AUX cord included
Built-in rechargeable battery with included charger
ASTM-certified
Recommended for children ages 3-8 and weighing up to 65 pounds.

Shipping is free on all orders from @ BestChoiceProducts.ca.