Mobilicity Canada: Unlimited Canada & US Calling For $29/m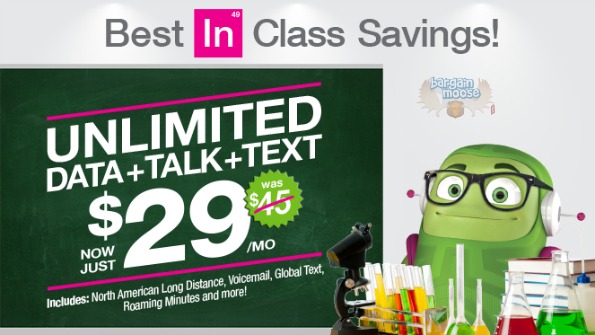 I stumbled across the cell phone plan to pretty much end all cell phone plans. Receive unlimited calling across Canada and to the USA for only $29 a month!
Like, seriously. This plan is blowing my little brain cells. As my phone is unlocked, I shall be checking out if they are available on Vancouver Island as soon as I am done writing about this deal. What all do you get? Everything, baby... including:
Unlimited Province-Wide Talk
Unlimited Canada-Wide Long Distance
Unlimited U.S. Long Distance
Caller ID, Call Waiting & Forwarding, 3-Way calling
Voicemail
Unlimited North American Text
Unlimited North American Picture Messaging
Unlimited Global Text
Unlimited Data (under the fair usage policy)
30 minutes North American Voice Roaming
Did you just read all that? Simply, that is about as mind-blowing as a plan can get! This plan regularly costs $45 a month from Mobilicity, but they are having this sweet little back to school promotion that will give you all of this juicy data, unlimited minutes, and more for just $29 per month.
Do you have relatives in the USA that you really do not call nearly as much as you should? No problem, with this problem you have just been hooked up with unlimited U.S. long distance. Call your aunt in Florida or your cousin attending Harvard. The 30 minutes voice roaming is also useful for when you step out of coverage areas.
I was checking on Mobilicity's coverage areas, and here is what they say:
Mobilicity offers unlimited coverage within our 5 unlimited coverage areas in Toronto, Ottawa, Calgary, Edmonton and Vancouver. In addition to our unlimited coverage areas, we also offer nationwide coverage, covering up to 95% of the Canadian population.
I am not sure what the difference is between the two, but from the map it appears as if Nanaimo is not in one of the unlimited coverage areas, but rather in the 'roaming area.' I assume that means I cannot get this plan. However, if you live in one of the five major cities above, you should certainly get hooked up with this offer while it is still available. Do note, to transfer your phone between carriers it will need to be unlocked (not on contract). That is my preferred way to do cell phone business anyway.
I have never had Mobilicity as a cell phone carrier; have any of our Moosers?
(Expiry: unknown)