Dudamobile Coupon Code: Exclusive $25 Off Annual Subscription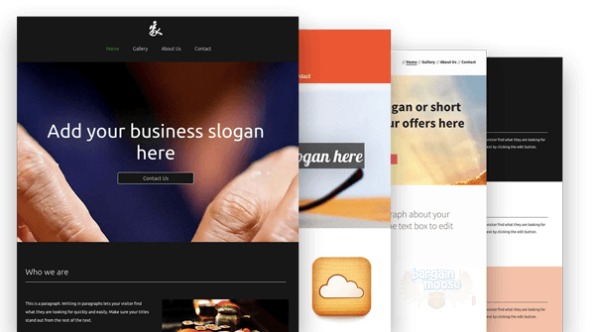 Dadamobile provides templates, domains, and web hosting for your new website. They specialize in making your website compatible with all devices: PC, tablet, and phones. They have given Bargainmoose an exclusive coupon code for $25 off an annual subscription.
Click here to check out Dudamobile.com now
Coupon Code: bargainmoose25
Discount: $25 off annual DudaOne subscription
Expiry: 31st December 2014
Unfortunately, you cannot use this on the mobile-only option. This is for the DudaOne subscription only which will be on the right hand side of the website page when it pops up. It is the multi-screen option where you build a website from scratch with Dudamobile and it will be compatible across all devices. I have to say the templates they offer look awesome and really adjust across the different screen sizes: from laptop to tablet to smartphone. As someone who has struggled with getting my blog to look good on my smartphone, I really appreciate a versatile template.
You have two options for subscriptions here. The Business subscription gives you one site for desktop, tablet, and mobile as well as web hosting, Email/phone support, Custom domain (mysite.com), and site backup. The downside is you get limited Duda branded ads on your website. This plan goes for $7.50 a month on an annual plan, which works out to $90 a year. Once you apply our exclusive coupon, you get this plan for $65 a year, which works out to only $5.42 a month (annually). The Business+ subscription gives you all of the above plus CSS editor and the ability to edit by device. It also is ad free, which is a huge plus and tends to impress visitors and potential clients a lot more than ads. This annual subscription usually costs $14.25 a month, which comes to $171 a year. With our coupon, you can pick up the annual business+ subscription for $146 a year, which works out to $12.17 a month.
If you are unsure if DudaOne is for you, there is the option of trying out their services with a free account. You will get a Duda domain (mysite.dudaone.com) which comes with Duda branded ads, but at the same time, you can check out all their templates and see how well their multi-device functionality works for you. Once you have a taste for their product, you can then think about getting the business subscription before this coupon expires.
For this and any future Dudamobile coupon codes be sure to visit the forum.