6 Months Free for Mobi Customers @ WIND ($210 Value)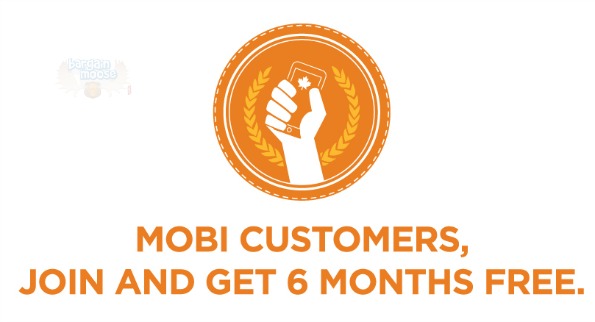 WIND Mobile is offering Mobilicity customers a special deal. Transport your number over to Wind and receive six-months free with no contract on the WIND 25 or WIND 35 Plan. If you choose the larger plan, then that is $210 worth, not including taxes, of cell usage. The smaller plan still saves you $150 pre-taxes.
To be eligible, the number you are importing cannot have been on the WIND network within 30 days. You must port-in your existing number and bring either your own phone or buy a phone from WIND. If you have an unlocked phone that will work on the Wind network, then you will also receive a free Wind SIM card valued at $25. That is a nice little bonus as well and makes transferring phone companies even easier than before.
The promotion is available for both pay after and pay before customers - whatever your preference is. You will be responsible for all additional pay-per-use services that you might use beyond the package you choose. However, the $35 a month package is generous. For $0 per month (for six months), you will receive:
Unlimited Data
Unlimited Province Wide Calling
Unlimited Canada Wide Texting
Call Control
There are also no hidden fees like activation fees or system access fees.
Now, you might be curious as to why WIND Canada is offering such an incredibly sweet deal to Mobilicity customers. Well, four-days after this promotion ends, Mobilicity comes out of creditor protection. The company currently has a mountain of debt to pay off and there is a good chance that it could go into liquidation. WIND wants Mobilicity to go to liquidation so it can scoop up their assets rather cheap.
One of the ways that WIND is increasing the probability of this situation is through the acquisition of Mobi's customers with strong incentive programs. It is in their best interest to acquire as many of Mobi's customers as possible before the company goes into liquidation as it A) accelerates the process and B) keeps WIND from losing potential customers to other companies.
As a customer, there is not much of a reason to stick with Mobilicity through this. The chances are slim that they will dig themselves out of their mountain of debt, so the company could be gone - or merged with WIND, within a short amount of time. In addition, WIND is offering a very good deal with fantastic savings for customers.
(Expiry: 26th January 2015)