HockeyShot Canada: Buy any Flooring Product & Get Three Awesome Freebies Worth $40!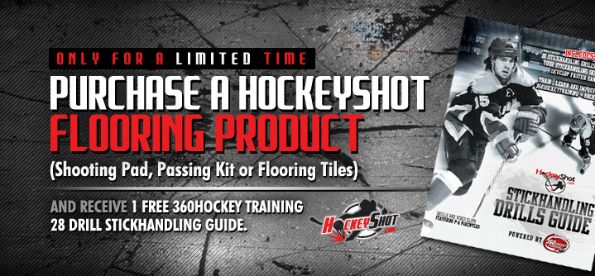 Make your practices even better with three sweet freebies!
... And get these three items for FREE:
I'm not 100% sure but I think you get the Stick Weight and the Swedish Stickhandling Ball for free all the time. It's the book that is a limited time thing. When you buy something out of the three products listed above, you will get an email (within 24 hours) to link you to the free eBook and instructional video download. The book has 28 stickhandling exercises and accompanying one-minute videos featuring P-A Parenteau of the Colorado Avalanche that shows you how to do the drills.
The guide features:
28 Stickhandling Drills with current NHL star P-A Parenteau and each drill includes a 1 minute video demonstrating the proper technique. Each drill also utilizes top HockeyShot training aids to enhance proper stickhandling fundamentals.
A 25 page PDF guide with exclusive stickhandling content from 360HockeyTraining, which can transfer these learned skills to the ice and improve your game.
The weight is to help improve power and speed while the Swedish Wooden Ball is for practicing quick stick movement on any surface. There is currently a 10% off coupon for the Dryland tiles which you can get by clicking here. Shipping is based on what you buy and where you are.
(Expires: Unknown)