Up to 50% Select Styles @ Toms.ca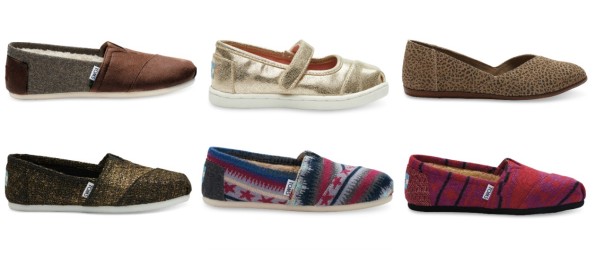 Toms currently has a great sale of up to 50% off select items! This sale covers everything; shoes, accessories, apparel, and more. With prices as low as $24 on a great, long lasting pair of shoes, you can't go wrong.
I love Toms shoes for so many reasons. First of all, I've never tried on a pair that I didn't absolutely love. They are so comfortable and long lasting. However, I love them most because of the great work they do for others. For example, if you buy a pair of shoes from Toms today, that moeny goes in part towards helping those in need. Toms is known to help by donation clothing, shoes, health care, safe births for at risk mothers, and the list goes on. So think of it this way, you save money on shoes, but you give back just as much to those in need. How great is that?
Toms is such a great company to support, and here is the proof. They help create jobs, help give to the less fortunate, create safe spaces, and improve the quality of life for so many people. I love that I can have a tiny part of that, just by buying a pair of shoes.
Shipping is free on orders over $75
(Expiry: Unknown)