Shop.ca: 70% Off J Shoes & Free Shipping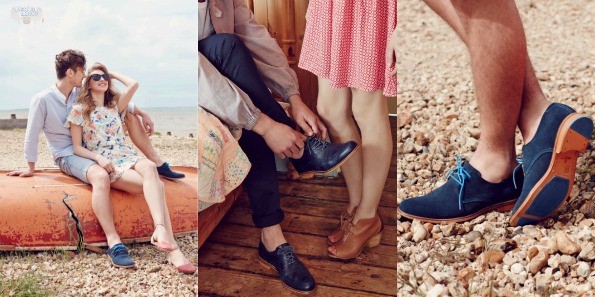 Shop.ca has started carrying the British designed shoe brand J Shoes. They are currently offering 70% off all in stock J Shoes so pounce on this deal if you love a good deal and funky soles for British souls.
J Shoes makes footwear for both men and women so we have all your feet covered here!
The Women's J Shoes "Vivienne" Bootie in Black is easily my favourite shoe design out of all the women's footwear available. I love the almost closed body with laces and then the open-toe. The entire affect is like wearing a turtleneck sweater with shorts: pretty hot! The leather is distressed and contrasts beautifully with the rounded wooden heel. The shoe is on sale for $58.50. The original price for these shoes was $195. I price compared with Amazon.co.uk. Amazon UK sells these head-turners for £57.50 = $103. Add in shipping, duty and taxes, the 2.5% your credit card charges you for exchanging currencies, and suddenly you see where Shop.ca's price is coming from. This is hardly a fair comparison (like comparing the cost of Hunters in England to Hunters in Canada - much cheaper in England) but you get the drift.
The Men's J Shoes "Grail" Oxford in Navy would be my choice for men. Men seem to either wear black or brown shoes or they wear some form of sneaker that involves a lot of white. It is nice to see a man make an effort in his dress, and that includes his shoes. It reminds me of an old Moore's ad where the woman is thinking that "perhaps, the first thing a woman notices about a guy is his shoes... or perhaps the second" and then it pans up to the guy's wedding ring. It was a good ad. I just adore these dark blue suede shoes with bright blue laces and leather sole. They are on sale for $70.50. According to Shop.ca, these shoes originally retailed for $235.
There are plenty other fantastic pairs in this sale. Sizes are limited and selling out quickly if the pairs I looked at are any indication. In addition, if you missed my last post on Shop.ca, you can score a unique coupon code for $25 off an order of $75. Pair your coupon code up with these shoes for an even better deal.
Receive free shipping on all orders at Shop.ca. One of the many reasons we love this place.
(Expiry: 4th September 2014)