Little Burgundy: Hunter Original Short Rain Boots (Grey) Was $155 | Now $77.50 & FS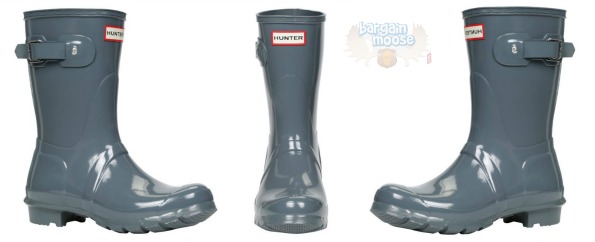 Little Burgundy certainly has some spectacular sales on footwear lately, and this 50% off deal on Hunter short wellie rain boots is no exception. Originally $155, pick up a pair of short Hunter wellies in grey for just $77.50. As Little Burgundy offers free shipping on $75 or more, these boots will ship to you for free.
These are a new addition to the sale that was added today - I believe - as I looked at the same yesterday and did not see these boots. Almost all women are in luck because only size five is currently sold out. That means size six through size 11 is still in stock. While you will see other boots listed, only the grey pair qualifies for this sale price.
I am not sure what I can say about Hunter wellies that I have not already said before. They are just awesome! They are comfortable on your feet, they are low maintenance, they are very durable, and I cannot see ever wearing through them. A word of warning though: they have poor traction on wet logs. For some reason I thought rain boots would make excellent footwear for a trip to the beach for my first (and last) ever surfing lesson. Uh, no.
I also really like the grey colour above. It is a very nice alternative to black (the colour I own), and yet still match everything in your wardrobe. I find myself wanting to get away from so much black - but matching often becomes difficult. Grey is a beautiful alternative and is still basic enough to pair with anything.
Now, I own the short boots because I have very thick calf muscles. Even with the Huntress tall boots, I could never get a good fit. Thus, the Hunter short boots have been the perfect alternative. They keep my feet dry and still look good.
Now, as a little price comparison, Hunter Canada has a few colours on sale for $105. Everywhere else, I kept on finding the boots for $149.99 or more.
You can get an extra bit of a discount if you sign up to Little Burgundy's newsletter (for your first time). You will receive a coupon code for 10% off your first order. That will reduce the cost of your new Hunter Original Short Boots in grey down to $69.75.
(Expiry: unknown)