Little Burgundy: 50% Off Dr. Martens Boots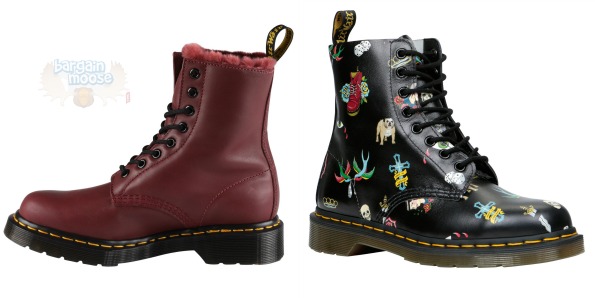 Little Burgundy Canada is offering 50% off select Dr. Martens Boots for women. The Serena and Pascal boots are on sale from $190 down to just $95 a pair. As they cost over $75, you will receive free shipping on your order.
As per usual, it was a mad hunt to find the true names of these boots. What Little Burgundy calls the 'Rena' is actually the Pascal Boot in Skins Tattoo by Dr. Martens. This is my favourite of the two styles as the black leather features bright and colourful tattoo style graphics including a bull dog, skull, cross, birds, brass knuckles, and more. The traditional eight-eye boot looks phenomenal and it will certainly make a statement on your feet. Originally $190, they are now on sale for $95. Sizes 7, 8, 9, 10, and 11 are available currently. I price compared directly with the Dr. Martens Canadian website where the same boots cost $189.99 right now.
What Little Burgundy calls the 'Valerine', is really the Dr. Martens Serena boot. Choose from cheery red or black leather in this boot from the core collection. These boots feature a Ben outsole, tradition eight-eyelet style, soft natural grain leather, and the classic heel loop. Unlike many other styles, they also have a faux fur lining on the inside to keep your feet toasty warn during the colder months. It also feels luxurious on your toes. Here are the sizes currently in stock:
Cherry Red: 7, 8, 9, 10
Black: 6, 7, 9, 10
I also price compared these boots directly with Dr. Martens Canada. Both the cherry red and the black colours currently retail for $189.99. At Little Burgundy, the boots were $190 and are now $95. If you want to read more about the Serena or the Pascal boot, I suggest visiting the Dr. Martens website. There is not much information about the actual boot on Little Burgundy.
I wanted to mention two other Dr. mMartens boots on sale, but I couldn't quite track down their right names. Be sure to check out the 'Cabrovizza' in navy: it was $175 and is now $87.50. In addition, what Little Burgundy calls the 'Karlotta' is on sale from $175 down to $87.50 as well in midnight black.
In my experience, women's Dr. Martens fit a bit on the narrow side. If you have wide feet, you are better to size down in the men's or you might need to get the leather stretched out. I have slightly wide feet myself, so I was keenly aware of the narrow width on several pairs I tried on down in Seattle. If I remember correctly though, the Pascal has a decent width. I like Dr. Martens because their soles are absurdly comfortable.
(Expiry: Unknown)