Half Price Legella Girls' Winter Boots Just $50 @ GloboShoes.com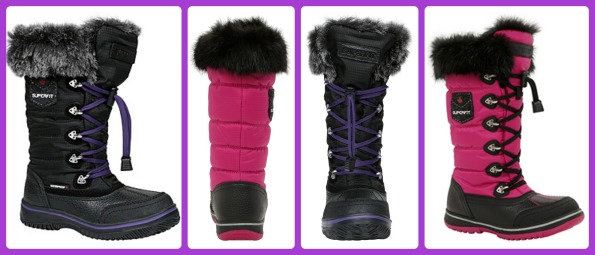 Kids grow like weeds, so you may need another pair of winter boots for your little girl this season - or buy a pair in advance for next winter season. Right now Globo Shoes Canada has 50% off the regular price in the sale section, so now is your opportunity to snag these Superfit Legella boots at half of their regular cost. For $50 you can get these girls' boots in Midnight Black or Fuschia. Shipping is a flat rate of $5.
Globo Shoes is not one to put much of a description for their footwear unfortunately, but these boots look more than suitable for any little girl. I like both of the colour options available. I also like the elastic pull-tight laces so that you don't have to tie your daughter's shoes every time you put the boots on. I hope you can score a pair of these in a needed size.
Here are the sizes still available:
Fuschia: 4, 5, 6.
Midnight Black: 2, 4, 5, 6.
The fur edge around the top is a sure fire way to make sure snow and cold doesn't get deep down into your little one's boots. The rubber lower portion looks like it would be waterproof, and all around these boots look like they would be a good buy. You can check out the rest of the sale and clearance section though, if these boots don't suit your needs.
GloboShoes.com has a flat rate shipping cost of just $5, which you won't even notice with a discount like this.
(Expiry: Unknown)