Globo Shoes Canada: Up To 50% Footwear Discount!
Here's a great deal from Globo Shoes Canada, but it only lasts a few days, so you will have to be quick to make use of it. You can get discounts on footwear in-store or online @ Globo Shoes.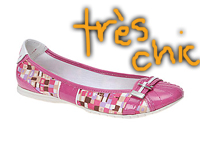 This always confuses me a bit, when they say 50% off original prices for sale items. I'm never entirely sure what that means. They could state anything at all was the original price, and just knock 50% off that.
If you'd prefer to shop online, you will see that the prices are already discounted when you are viewing the Globo Shoes store. Shipping is also free!!
Valid between May 24th and 26th (2009) only.
Looking online, there are some great prices on little pumps. The cute little pink pair (STRACENER) pictured to the top right are only $19.99 with free shipping! They would look great in the summer, with shorts or capris. The purple pumps pictured above left are called the FALOLEST and they are only $24.99! You can also order those in silver, but I really like the purple. That style seems to be all the rage at the minute.