Dr. Martens: Up to 80% Off Clearance Sale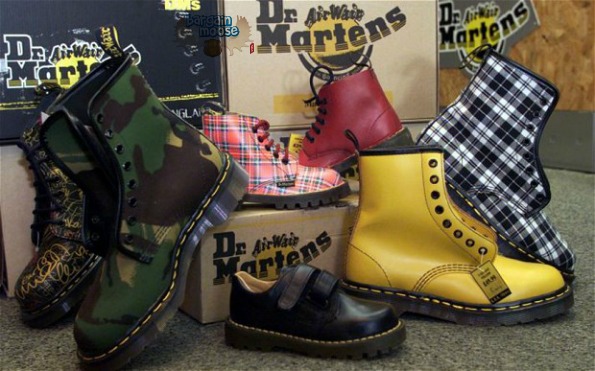 Dr. Martens is hosting a large sale on their iconic footwear. Save up to 80% on men and women's shoes, boots, sandals, and more.
Let us dive straight into the sale. The best deals appear to be on men's shoes this time around, but be prepared for very low stock and limited sizes. These 1461 - Navy Smooth shoes are a 3-eyed shoe that will take you to the office and glide your feet through business meetings. No one will ever know you are even wearing Dr. Martens! Originally $149.99, the 1461 shoes in navy are on sale for $49.99.
For those in the rainier regions of Canada, or just anyone who loves a good mud puddle, mosh pit, or wants to easily traverse the floor of a rock/metal concert... these Drench Boots are your ticket to dry feet while staying fashionable. This specific pare comes in hot pink! The boots have black fleece lining to keep your feet cozy and comfortable. These are necessary for muddy festivals and backyard BBQs in the off-season. Best off all; just use a little water and a cloth to wipe them clean. Originally $149.99, they are now on sale for $59.99.  The Drench is also available in yellow.
I like shoes that are completely out of this world, so the Harlen (black) should jump right off the page and get on my feet. Now, these are sweet little three-eye loafers feature all over silver studs for that little punk rocker within you. These same shoes come in a Silver variation as well. I prefer the black, and picture these bad little shoes flashing out from under black jeans with an appropriately shiny black leather with silver studded belt. Originally $289.99, these shoes are now on sale for only $59.99.
Now, all Dr. Martens boots are sized in UK sizes. However, when you select a size from the drop down menu, it will show you the US equivalent. Many shoes, like the Harlen above, are unisex. Thus, when you pick a UK size that fits both sexes you will see both the men's US size and the women's US size listed. Some footwear is made specifically for each gender and those are generally specified. As someone with wide feet, I find the unisex shoes a better fit than the ones strictly for women.
Receive free shipping on orders of $75 or more.
(Expiry: Unknown)