Crocs Canada: Shoes Just $16 (Were $44) (EXPIRED)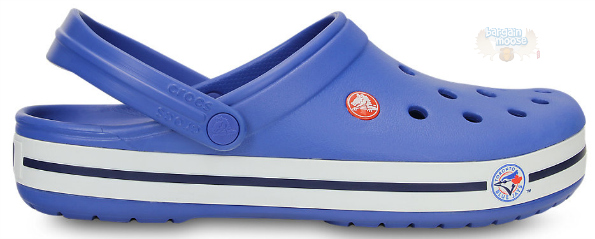 Combine some great sale shoes up with the extended Cyber Monday coupon code for 35% off and you can score a bunch of Croc shoes that were $44.99 for just $16.24 each!
At first I wrote off the Crocs Canada coupon because so many of the better discounted shoes were excluded from the coupon. Then I ran across a bunch of shoes that were $44.99 and are now on sale for $24.99. After the Crocs coupon code CYBER35 they all come down to $16.24.
Here are just some of the adult crocs you can score for $16.24:
All the MLB Crocs are included in this deal, so if you have a favourite team, then look them up and see if you can score a special pair of Crocs. What I like about these Crocs is how they are not blatantly obvious - I could wear the Braves shoes for instance, and not feel like I am screaming fan-dom at the top of my lungs.
Each pair of MLB Clogs sports team colours and has a little team symbol on the white band. If I purchased any, I would have to support Canadian and go with the Blu Jays. They are a nice enough blue and there are still plenty of sizes still in stock. Women's size eight and up or men's size six and up are available.
There are even a few pairs of Crocs on sale for children. These Crocs Chameleons Translucent Clog are super cute and available in a couple different colours. Originally $44.99, they are on sale for $16.24.
However, one of the rare better deals I found was on these Girls' Huarache Slingback Flat (Juniors). They were originally $49.99, and will be just $16.24 after coupon. With a starting price of $5 higher, they are quite the buy! Only size two is sold out. Size one, and sizes three through six are still in stock.
With the coupon code and the sale prices of these Crocs combined, I think this is a very good deal. Keep in mind that the coupon code expires TONIGHT - so place your order ASAP.
Shipping is a flat rate of $9.99. Orders of $99 or more do ship for free across Canada.
(Expiry: 2nd December 2014)