Taco Del Mar Canada: Free Tacos & Free Coupons!
First of all, the Taco Del Mar website has a special promo running for a free Taco on tax day – April 15th 2009. YUM! Free Tacos!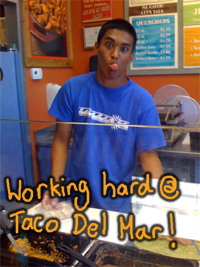 Now, the Taco Del Mar website is for both the US and Canada, and the free coupon says it will work at any Taco Del Mar location. There are Canadian Taco Del Mar locations in AB, BC, ON, & SK.
Secondly, if you sign up to the email newsletter on the Taco Del Mar website, you will be eligible to receive deals and coupons by email in the future. When registering, make sure you input the address of your local store, as they will be using this on future coupons.
This is what they said when I joined up:
Carlos will send you a confirmation e-mail that will include an awesome offer at any participating Taco Del Mar. As a member, you'll be the first to know of upcoming Taco Del Mar promotions and will continue to receive great offers at any Taco Del Mar restaurant.
When I got the confirmation email, it also came with a free coupon for a $1 discount on any Combo Meal or Burrito. I know a dollar isn't much, but it's still a dollar more in your pocket than in theirs! The coupon expires on the 1st of June 2009. I've saved a copy of the Taco coupon and you can print it out from here if you want.
While you're on their website, you can also view the Taco Del Mar current promotions, to see if there are any good deals in store. Or, if you're a really big fan, you can even buy Taco Del Mar merchandise on there!
P.S. Check my "email discounts" tag for more great Canadian deals by email.
Thanks danyo808.