(ON) Pizza Nova Deals: Looks Like Pizza?
Yo pizza-lovers from Ontario! Here's a quick Saturday afternoon post to get those taste buds excited. I've got a deal from Pizza Nova Canada for you guys! For a limited time, there are 2 particular deals advertised on the Pizza Nova flyer pages. They are: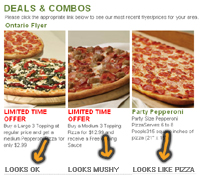 Buy a medium 3 topping pizza for $12.99 & receive a free dipping Sauce
Buy a large 3 topping at regular price & get a medium pepperoni pizza for $2.99
You can check the PizzaNova.com website for more info if you like.
I'm a pepperoni lover. I can't get enough of that spicy meaty goodness! If you're considering ordering a few pizzas instead of slavering over a hot stove, get down to Pizza Nova.
On looking at their website, they've written "Looks Good" under each and every pizza, which I find quite funny. They're hardly going to write "Looks OKish" or "Doesn't Look That Great." Would that be funny?? (See my interpretation to the right!)