McDonald's Canada: McBistro Chicken Sandwiches 50% Off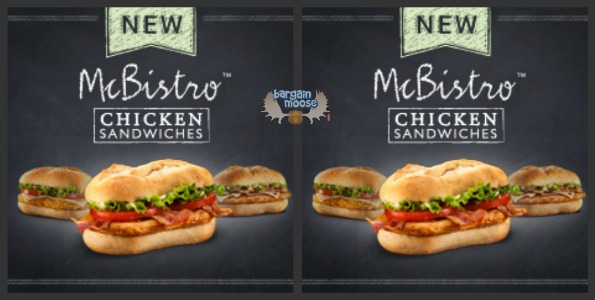 For three days, save 50% one of McDonald's new McBistro Chicken Sandwiches.
There is no coupon needed.
There are three McBistro Chicken Sandwiches to choose from - the South West Chicken Sandwich, the Chicken BLT and the Swiss Mushroom Melt. You can order any of the sandwiches with grilled or cripsy chicken. I'm hoping the Chicken BLT tastes as good as the description - soft whole grain bun, 100% seasoned white chicken breast, hickory smoked bacon, fresh ripe tomatoes, and crisp lettuce.
I've never eaten so often at McDonald's as much as I have in the past three years since the kids have discovered their love for McDonald's. I know they would probably enjoy the McBistro chicken sandwiches too - as long as I also bought the kids meal toy too!
Expires: 23rd March, 2012