Marble Slab Printable Coupons: 4 Cones For $14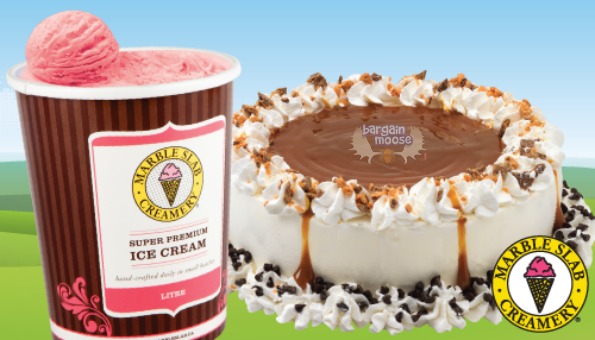 I really needed to talk to you about these Marble Slab printable coupons. There are so many great deals on here for ice cream and ice cream cakes, one being that you can get four cones for $14.
There is a moral to my story. Last time Marble Slab had similar coupons out, I printed them out and took my family of five to get some ice cream. Two of my boys shared one cone, because there is so much ice cream, I can barely eat it all, never mind a three-year-old eating it all. We spent $14 plus tax. The other day my son had a friend over and we decided to go for ice cream and had no coupons. We bought ice cream for the six of us and it came to $38! I could have gone out for dinner for that. Moral of the story: don't go to the ice cream shoppe without coupons.
I absolutely adore Marble Slab and am going to be super sad when I don't have one in a very close proximity of my house once I move. I love that you can now get as many mixins as you'd like so I get so many to fill up my delicious and homemade ice cream in a waffle cone.
If you aren't taking the whole family, there are deals for you too, like two cones for $8, two sundaes for $8 and buy one, get one cone for $0.99.
If you are into cakes for graduation, Canada Day or just because who doesn't love ice cream cake, upi cam get $5 off any cake or $10 off a slab size cake.
If you just want to take ice cream home, you can do that too and get three litres for $20 or two half-litres for $12.
Always check for Marble Slab coupons in the forum before you head out for your ice cream fix!
(Expiry: 2nd July 2014)