Free Coffee, Free Upgrades & More @ A&W Canada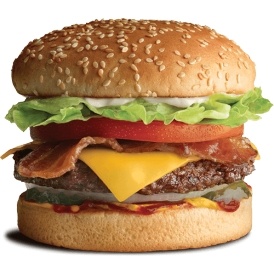 I always get excited when A&W Canada releases their new print coupons. They have to be my favourite fast-food restaurant. Maybe even the only one I do eat at. Right now they have four different coupons that appeal to our needs. Maybe this is my dinner for tonight?
The coupon I will definitely make use of is a free upgrade from fries to sweet potato fries for free with any combo purchase. I just love their sweet potato fries - and especially that sauce (chipotle?) that comes with them. It isn't as spicy as other chipotle sauces I have had, which is great for my wimpy taste buds... and the kids too.
If you are a teen burger lover, then you will want to use the coupon to upgrade to a Double Teen for free with the purchase of a Teen or Mozza burger. If you purchase the Mozza, you will be upgrading to a Double Mozza. If you don't really want to upgrade to a Double burger, then you can always purchase a teen burger and get free russet thick-cut fries with that.
Are you more of a breakfast person? Purchase any breakfast sandwich and enjoy a free small coffee with your order. I can't particularly eat their Bacon & Egger or Sausage & Egger since eggs seem to make me sick since I have had my son, but their coffee has always pleased me.
These coupons can either be shown on your mobile device or printed. Either way, just be sure you make use of them before they expire on the 8th of May.
(Expiry: 8th May 2016)