Dominos Canada: Large 4-Topping Pizza Only $12!!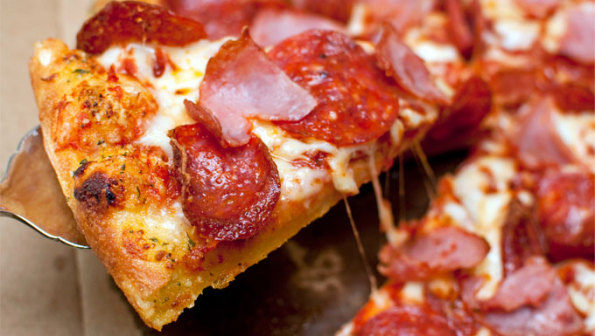 Well, that was fast. Good-bye New Years resolutions!  Dominos.ca is currently offering an offer where you can get a large pizza with 4 toppings for just $11.99! On the Dominos site, it specifies that each store has different pricing, but this is the price I got. Let me know if you get anything different!
So you may have thought that this New Years was going to be your chance to start eating healthy, but after seeing this deal you will know that you were wrong. Dominos Canada has a fabulous promotion! Order online and get a large pizza with four toppings for just $11.99, though that price can change between $10.99 and $13.99 depending on your location. For the most part, your price is going to remain at $11.99.
The last time we wrote about this promotion was available was back in January of 2014, and I think it definitely deserves a mention again. While this offer is not as great as the 3 pizzas for $30, it is still a wonderful bargain. You don't need a promo code for this great deal, simply order and receive. I'm sure if you are like me, you have those weeknights that you just don't want to cook after work, and this promo will be your saving grace.  You could add a pre-made salad either to your order or pick one up prior at the grocery store, so that you get some veggies in there too.
Usually when I see these deals they sound great until you add the toppings and realize your pizza is now not the deal you thought. That's why this deal is great, because it gives you four toppings included and the pizza is large, so it probably feeds a family of four. I think four toppings is the ideal amount you'd want on a pizza anyway. Too many and you might as well lick the plate because they will all fall off your pizza.
Dominos Pizza has to be my favourite pizza place, so I think it is safe to say I am having pizza for dinner tonight! What about you, Moosers? How often does your family eat pizza? We have actually slowed down. We used to order pizza or Chinese food at least once a week, but it has been a few weeks. I guess that means I won't feel bad about ordering this pizza, right?
(Expiry: Unknown)