$5 Off - No Minimum @ Just Eat Canada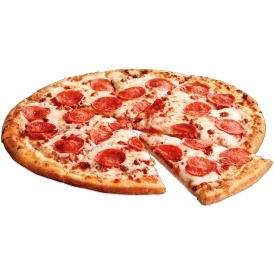 Woohoo! This coupon code is back and working (we tested) for the weekend!
Don't feel like cooking? Ordering in for the friends and family? You can order your meal from Just Eat Canada and even enjoy this fab offer. Just Eat is giving you a $5 credit with the code OUTDBL5 at the checkout.
Ordering from Just-Eat.ca is super simple. Enter your postal code, and select what you feel like eating. I usually click "show all" and try something new. It is like a food adventure!
There is no minimum purchase required to get this $5 discount, which is a definite bonus, but some restaurants will have a minimum order required, so make sure you pay attention to that. I found a local pizza restaurant that has an awesome deal—get two extra large, three-topping pizzas for $19.99. Once delivery, taxes, tip and my discount were taken into consideration my total ended up only being $22! Not bad for two extra large pizzas if you ask me!
Here's a look at the discount applied in my shopping cart: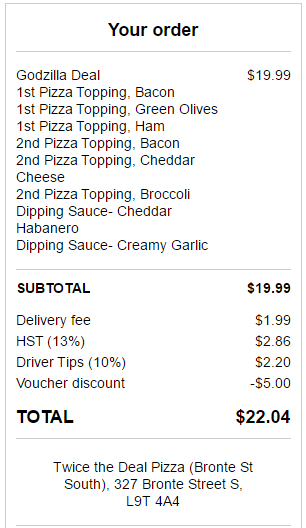 There is a catch to this Just-Eat.ca offer though. In order to get your $5 discount, you will need to purchase your meal with a valid credit card. The code to get your $5 discount is only valid until the 10th of April, so be sure to get good use of it.
(Expiry: 10th April 2016)