Cinnabon Canada Printable Coupons: B1G1 Minibon Rolls, CinnabonStix & Centre Of The Roll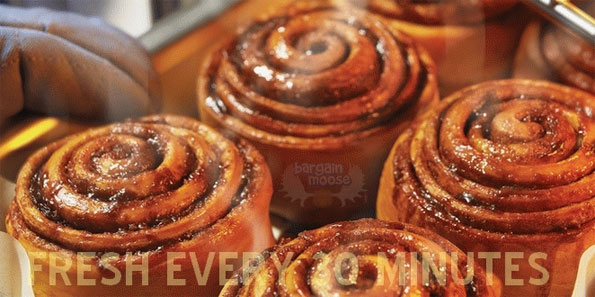 Mondays are hard. Take a break from work and head over to Cinnabon for a 2-for-1 deal! Print these Cinnabon coupons to either take advantage of a "buy one, get one free" deal on Minibon rolls, CinnabonStix or Centre of the Rolls.
Did you know that Cinnbon was founded in 1985 in Federal Way, Washington and that originally, they only sold their Classic cinnamon roll? They have certainly come a long way since then, especially with the addition of a variety of other baked goods and beverages to their menu. Personally, I have only had the pleasure of trying their Cinnabon classic but I would certainly love to try all of of the ones that you can get a 2-for-1 deal with the printable coupons.
Keep in mind that Cinnabon coupons aren't stackable. So, if you have several ones just waiting to be redeemed, you won't be able to use more than one per transaction. It's no biggie really, especially since multiple coupons may provide you with that extra incentive to visit Cinnabon on a another day -- well, as if you needed an extra incentive, other than the tastiness of their products! ;)
These offers also exclude Sweet Deals but that's a fairly obvious one as those usually include a drink like a coffee. Anyways, getting a 2-for-1 deal, along with a coffee for instance, is sure to still be cheaper than getting one of the Sweet deals along with an extra baked good.
Also, although you can only use these printable coupons once per person, transaction and visit, there is nothing stopping you from printing them numerous times to use on a daily basis. Just as long as nobody notices, it really won't matter and you will also save a pretty penny. This 2-for-1 deal could be great for getting double the pleasure but you can also use it to treat a friend. Cue the sappy music but it definitely would be a good idea! You could even use the printable without them knowing. :P
Sadly, these these Cinnabon printable coupons are only valid in Ontario and Nova Scotia as there are no Cinnabons anywhere else in Canada. These printables also aren't valid in ONRoute Travel Centres. Although, I must admit that I'm not entirely convinced that there are no other Cinnabons as I could have sworn there was at least one in Quebec!
(Expiry: 12th October 2014)