10 Timbits For $1 With Any Drink Purchase @ Tim Hortons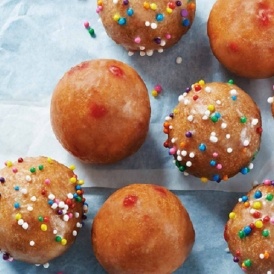 Timbits. The kids love 'em, and you probably sneak-eat them too. If you haven't stuck one of these delicious little balls of deliciousness into your mouth, then you're seriously missing out. For a limited time - you can even get 10 Timbits for just $1 with any drink purchase between 1 PM and 10 PM at your local Tim Hortons.
Normally ten Timbits would cost you about two bucks and change, so this is a great way to save some money when treating the kids or even yourself. I know I love a handful of plain Timbits with my coffee - but if you are getting 10 Timbits then you can really test out the different flavours.
This promo won't be around forever, and you will only be able to enjoy it at your local Timmies between 1 PM and 10 PM everyday until it does end. I'm on my way! The only catch is that you have to be ordering a beverage of any sort in order to get this promotional offer.
What is your favour Timbit flavour?
(Expiry: Unknown)