Thyme Maternity: Extra 30% Off Sale Plus Another "Up To $30 Off" With Coupon Code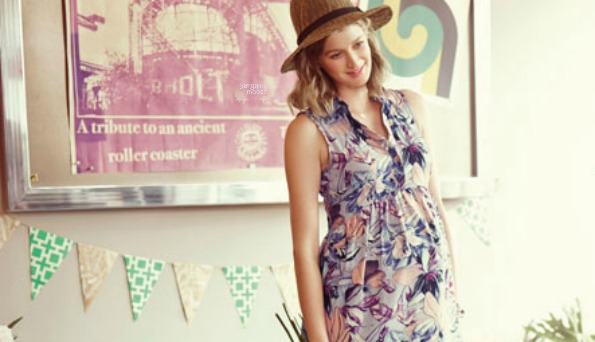 I have a few pregnant ladies in my life right now and in fact, one of my good friends just texted to say she is on her way to Thyme Maternity! Of course, I messaged that she should be shopping online, with these great deals happening. Right now, Thyme Maternity has an extra 30% off all of their sale items, bringing quite a few of them down to very low prices. Then, once you've stocked your cart full of sale (and regular priced if you desire) items, use the coupon code below to get another up to $30 off your order!
Click here to shop @ Thymematernity.com now
Coupon Code: THYMEMORE
Discount: $10 off $75; $20 off $100; $30 off $125
Expiry: 19th April 2015
It looks like the jeans are not included in the extra 30% off, but you can use them to get your total up to the minimum to get another discount. They are still a great deal, with prices as low as $39.
If you like tights, Margarita blogged a couple of weeks ago about these printed tights that were regularly $39, now down to $13.99 for only two days. One of the styles is now back down to $13.99 and you can include it in your total to get your extra discount.
If you know you'll be pregnant this fall, or want a sweater to keep you warm on cooler nights this summer, check out this cowl neck maternity sweater. It has a regular price of $59, was reduced to $19.99 and further reduced to $13.99.
Bras are also buy two get one free and are also on sale. They don't get the extra 30% off, but again, you can use it to get your full discount off your total. I added three of these padded high tech maternity bras to my cart - one in black, one in nude and one in a slightly smaller size since trust me, you'll need varying sizes. They were regularly $45, but I got three for $59.98, paying only for two of them.
These relaxed soft maternity pants with zipped pockets are perfect for spring with their glacier colour and rolled up legs. Regularly $59, they were on sale for $49.99 and are now $34.99.
If you need a dress for an event, or because you like wearing dresses, this sleeveless halter maternity dress will become an important staple in your maternity wardrobe. I wore my favourite maternity dress constantly when I was pregnant and I actually really miss it. This one was $69, on sale for $49.99 and now only $34.99.
I added those seven items to my cart - pants, dress, three bras, a sweater and tights and normally would have paid $361 for all of those items, but my grand total after an additional $30 came off in my cart is only $127.94. I'll also get free shipping. I think that's pretty awesome.