The Belly Button Coupon: Exclusive 2 Free Bands or 1 Free Body Band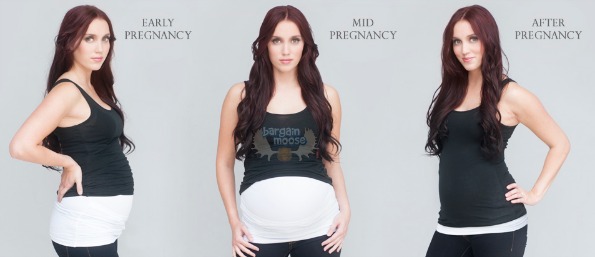 The Belly Band is a company that we have not yet written about but we have a great exclusive to offer you.  Get your choice of either two free belly bands or one free body band and just pay the shipping with our coupon code.
Click here to shop @ Thebellybuttonband.com now
Coupon Code: BARGAINMOOSE1
Discount: 2 Free Belly bands or 1 Free Body Band
Expiry: Ongoing
The bands are worth $19.95 each and the body band is worth $39.95.  You will be able to get either two of the belly bands, which are smaller or one of the body bands which is larger. Essentially they do practically the same thing but the body is bigger for more coverage of your belly during pregnancy.  You will get your choice for free and all you will have to pay for is the cost of shipping, which is a reasonable $14.95 instead of the $39.95 and the cost of shipping.
Some comparables to this product are pretty expensive .  I found this one at Amazon Canada for $87.21 and you would still have to pay for the cost of shipping on top of that. Thyme Maternity also offers a product like this as well, and it is $30, and you would again need to pay for the cost of shipping. Using our exclusive and getting the up to two bands for free and just paying the shipping is a far greater deal than anywhere else.
This is one of those coupons that I wish we had when I was pregnant with either of my boys because I would have used it in a heartbeat!  It is crazy how expensive things can be even before the baby arrives because of all the changes your body goes through.  I had to get new shoes (because of swelling), a new coat (my winter coat was too small), new shirts because everything expanded) and a bunch of new pants and skirts (because of my expanding belly). A Belly  Button band eliminates the need for any new pants or skirts really saving you a lot of money.
After pregnancy was not much different, my clothes didn't fit properly and I had to get new pants yet again.  The Belly Button band is designed to allow you to wear your old pant without doing them up and still holding them up.  I would have loved one of these.
Additionally, it looks pretty cute.  It actually looks like you are layering your tops which is trendy so it is a win/win situation. If you want to get more of them, you will pay only $7 for each belly band or $10 for each body band after you add your free ones to your cart. These are also great prices!
We will have all The Belly Button coupons posted up on the Bargainmoose coupon forum.