Free Resolve Gold Oxi-Action Stain Remover With MIR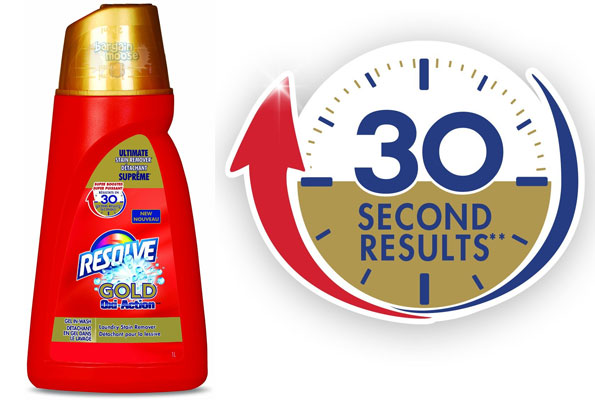 Free is free and until mid-May, you could get a free Resolve Golf Oxi-Action in-wash stain remover with a mail in rebate (up to $7 off).
This freebie is good for a Resolve Gold Oxi-Action in-wash stain remover product in either a 625g powder form or 1L gel format. You will receive up to $7 off depending on which product you choose. Personally, I would opt for the gel form just because it's so much easier to pour the Resolve onto a stain and wait, instead of sprinkling the powder and having to add water as well. Although, I would  think that the powder would be good for more uses since it's easier to be mindful of how much you're sprinkling instead of pouring.
This is a mail-in rebate, which means that you first need to actually purchase the Resolve Gold Oxi-Action, then you need to fill in your information on the mail-in rebate printable coupon (name and address) and finally you mail the completed mail-in rebate with the original receipt.
This last part is particularly important. You won't get your refund if you include a copy of your receipt, so make sure to include the original one! Finally, you will receive a cheque in the mail for $7 within 6 to 8 weeks. Whilst you still need to pay the postage fee to mail in the rebate, it's still much more worth it to do it this way than it is to pay for the full cost of the Resolve product.
Speaking of which, this mail in rebate is only good for a Resolve Gold Oxi-Action in-wash stain remover product and won't work on any other Resolve product. Personally, I'm a huge fan of Resolve product and actually use them to remove all kinds of stains, especially poop and food ones from my baby's clothes. I'm definitely intrigued by how this Resolve product promises to remove the stain in as low as 30 seconds as I have had to wait much longer with all of these other Resolve products I have used in the past.
(Expiry: 24th May 2015)