Flash Sale: HockeyShot Dryland Tiles from $11.95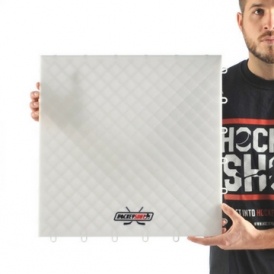 Update: They just extended this sale for another 24 hours, so it's on through Dec. 16!
Hockey season has been in full swing for a couple months now, but it's never too late to pick up more training gear – especially when it's on sale! And right now, HockeyShot Canada has a major flash sale on select top sellers!
Essentially, you're getting an extra 20% off select sale prices – but only until the end of the night!
The highlight of this sale are of course the HockeyShot Dryland Tiles, which can let you, your kids or your team train indoors or outdoors without any actual ice! Each one measures 18" x 18" and can be clipped together. They're specially designed to help you work on your puckhandling, and (the best part) there's no minimum order total, so you can grab one or as many as you need!
There are two kinds to choose from:
Other training essentials are on sale, too, like the HS Extreme Goal with Backstop for $169.95 (from $229.95) and the HockeyShot Extreme Radar for $111.95 (from $139.95)!
Orders over $200 ship free when you use the coupon code FREESHIP200 at checkout.
If you like this, you may like these...