B3G1 FREE HockeyShot Dryland Flooring Tiles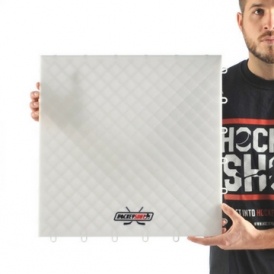 HockeyShot says this is their best deal ever on dryland flooring tiles, and they're not kidding! This weekend only, their Allstar Edition Tiles and Synthetic Ice Revolution Tiles are on sale for buy three, get one FREE!
Tiles like this are perfect for hockey training during the spring and summer. If you've never seen these tiles before, they let you, your kids or your team train indoors or outdoors without any actual ice!
Each one measures 18" x 18" and can be clipped together. They're specially designed to help you work on your puckhandling, and (the best part) there's no minimum order total, so you can grab one or as many as you need!
There are two kinds to choose from (and both are part of the B3G1 deal):
Unlike the basic dryland tiles, the Synthetic Ice Revolution Tiles actually take the place of real ice, so you can skate on them during practice!
The discount will be applied at checkout, so make sure you have at least four tiles in your cart.
To make things even better, orders over $200 ship FREE with the code FREESHIP200.
If you like this, you may like these...