BBQ/Oven Gloves Can Stand Serious Heat, $27 & Free Ship @ Amazon.ca Marketplace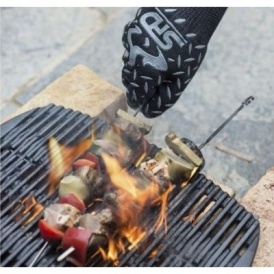 Ever since I've been using my heat resistant gloves for baking (that are similar to this design), I've been appreciative of them whenever I open the oven to remove a hot pan.

You can purchase this type of design in stores, but they're around $18-$20 for only one glove. This pair of gloves is $26.89 and includes free shipping. These are being sold by Amazon.ca Marketplace Seller CyberMarketOnline, but since the order is being fulfilled by Amazon.ca, you'll get them as fast as you usually get your Amazon orders.

After you click on the above link, click on the section where the red box is, in the image below. ('2 new.') You will then see these gloves being sold by CyberMarketOnline for $26.89.

Bacon Tip - Cook It Perfectly
We like to cook bacon in the oven on a baking sheet but we use Alcan Slide foil so we don't have any bacon sticking to the baking sheet. President's Choice also makes this type of a product, at a slightly lesser cost. Place the cold bacon strips on the foil lined baking sheet, dull side of the foil up. (With normal tin foil, it doesn't actually make a difference. With this foil, only one side is non-stick.) Now turn on the oven to 400 Degrees F. You can leave the bacon for around 15 min., then flip it over and stick it back in the oven. Cook for an additional 15-23 minutes and you will have the most perfectly cooked bacon ever.
The reason I think these gloves are so important is that I know all of our other oven mitts are actually quite dangerous while removing the sizzling hot pan full of bacon and grease. With the heat resistant gloves, I can confidently (slowly, carefully) pick up the entire pan and set it down with efficiency. I've never felt any heat sensation at all on my hands, that's how good they are.
These gloves can withstand heat up to 932 Degrees F. I know my basic department store oven mitts don't do that. I've burned myself a lot with basic traditional oven mitts. Yeah, I've said a few choice words.
Keep in mind that these gloves will not work to protect you against steam burns or moisture; these are designed as a dry heat glove. (Which really, is quite the same as regular oven mitts, if you think about it.)
In other words, think of these as being the perfect accessory for the BBQ. Buy them now as a gift for your significant other to use at the grill, then take them on in over to the kitchen to use for yourself.
Shipping is free!
(Deal expiry: Unknown)