*** Winner is Bargainmooser Megan ***

Since Bargainmoose started out in August 2008, I've been closely watching my daily RSS readers figure, which you can see towards the top right of the page. Back in June 2009, we reached 1000 moosers, and today, we've reached 10,000! Whoop!
I'll re-iterate a sentence or two from that previous post about what the RSS figure means - it is made up of people who daily read Bargainmoose on the web reader of their choice, or are subscribed to the Bargainmoose daily email updates. For this reason, the figure fluctuates up and down sometimes, with Monday usually being the peak day when people go back to work after the weekend.
So in order to celebrate, I am putting my hand into my moose-shaped wallet, and I'm going to buy one of you a new Amazon Kindle ebook reader. I myself have the Sony ebook reader, but the Kindle seems to be the most popular e-reading device lately!
How to win the Kindle:
Leave a comment below to congratulate all the Moosers for being so awesome
If you are not already subscribed, please subscribe to the daily email updates
Tweet about this post on Twitter, leave Twitter username in a comment below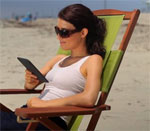 Rules:
Ends 17th June 2011
Canadian entrants only
1 type of entry per household
Admin's decision is final in all cases
Moose Luck!