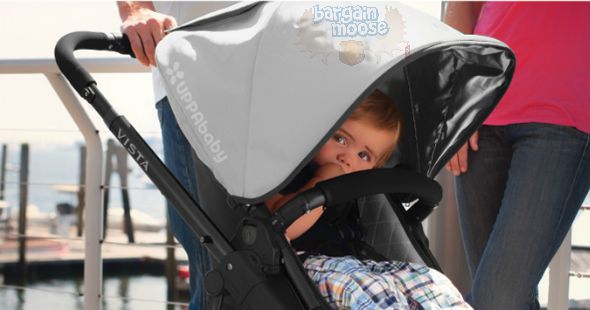 When we decide on a stroller to purchase for our little bundle of joy, there are so many different things to consider. Some of the things you think about include safety, comfort, weight restriction and such. Have you ever thought about strollers having choking hazards?
UPPAbaby has recalled certain strollers due to choking hazards, and this is the first I have ever heard of such a thing. UPPAbaby is a company well known for their high end strollers, but now over 79,000 strollers and seats across Canada and the US have been recalled. Why? The crossbar that goes in front of the baby is covered in foam for comfort. Turns out children and babies can bite off the stroller's foam, which is a choking hazard.
Here are the items included in this recall:
2015 Cruz stroller
2015 Vista stroller
2015 RumbleSeats
There have been 22 different reports of children biting off pieces of this bumper bar, but no injuries have been documented. I can't believe how many things have been recalled lately. First we had the Lululemon draw strings for causing eye injuries, and now strollers for being a potential choking hazard? I honestly can't believe that the designers didn't think of that when they covered the bar in foam. My son was never allowed bite at it, but I have seen some strollers with the foam falling off.
The recall states that consumers should immediately remove the bumper bar and contact UPPAbaby in order to get a free cover for the bar as well as a warning label. These strollers have been sold from December 2014 until now. You can get an exact model number or UPC of the UPPAbaby items in question at the Healthy Canadians government website. You can find the serial number on a sticker on the stroller. It will be located on the lower right portion of the frame. Hopefully you don't peel off all the stickers like I do! The strollers cost between $500 and $900, while the car seat has a price tag of about $200.
8,000 Of these units were sold in Canada. Do you own one of the affected UPPAbaby strollers or car seats?