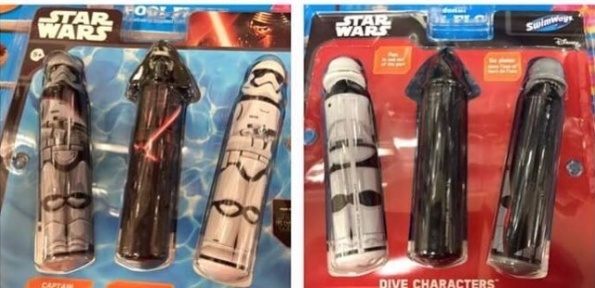 These Disney Star Wars toys were just starting to hit the shelves when they were pulled from the market. These dive toys were designed for "fun in and out of the pool", but parents don't see it fit for their child to be playing with these phallic Star Wars Toys.
Target had issued an apology regarding these toys, and they won't be hitting any other store's shelves. What do you think Moosers - was this going too far or are these Star Wars toys inappropriate? According to Pop Goes The News, Joni Jones had contacted Target regarding these toys. She posted an image on their Facebook wall that said:
"Are we sure there are children's toys, Target? Looks a little questionable to me."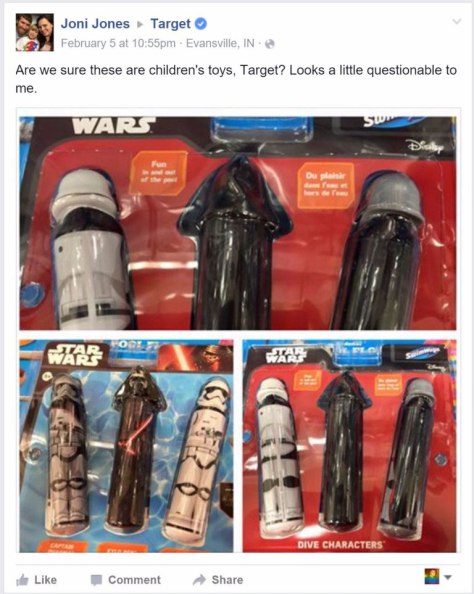 These toys look a little questionable to me as well!
Target responded with this:
We apologize for your disappointment. Occasionally, we carry merchandise that some guests may find objectionable, as was your experience. We never want to offend anyone and have shared this with our Merchandise team for review.
So it is safe to say that we won't see these toys hit Canadian shelves anytime soon. But what do you think they were thinking when they launched these dive toys? The woman who originally posted the picture on Target's page has since deleted her post and followed up to say that she was not disappointed or offended, rather she wanted to share the humour with fellow adults.
Moosers - what do you think about these Star Wars toys?