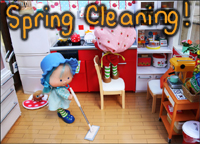 Hello Happy Campers! If you're a regular reader, you might notice that something's different!! The Bargainmoose blog has been on the go for about 6 months now, so it's time for some spring cleaning. I've had a small team of talented hamsters working round the clock on updating the site. We've had a graphical makeover… everything looks a bit nicer and tidier now, in my opinion. If you're reading this and are not yet subscribed, feel free to do so with the RSS feed, or even subscribe by email.
Everything works just the same as before. The only real difference is the "share" button below, which you can use to share blog posts you like on your favorite social networking sites, such as Facebook and Twitter.
Our new banner at the top of the page is actually a cartoonised image of my very own living room, right down to the kitsch spoon collection.
Win Some T-Shirts!

(Contest Now Over)



To celebrate this joyous occasion, we're going to have a bit of a contest. We've got 2 cool t-shirts kindly donated by Canadian t-shirt company, Smoofer.com! One is the "Transformers: Blaster" and the other is "Elmo." To be in with a chance of winning one of these prizes, simply subscribe to the email updates on Bargainmoose.

If you'd like to double your chances of winning, I'll give you an extra contest entry if you make a comment below! Contest will close on the 18th of March 2009 and 2 winners will be randomly chosen. They will be contacted by email with details of their winnings! (Canadian winners only though!)
Hope you guys like the new design!
P.S. Thanks anayari78.