Ahhhh 2008! The year of the crashing stock markets, the credit crunch and Obama, to name a few notable events. It was a year of highs and lows, ups and downs, tragedies and triumphs.
Some fun facts for you:
According to Forbes, Canada topped the list of the most welcoming countries in the world.
In the Beijing Olympics, Canadian athletes received a total of 18 medals. Go Canada!
Check out the "2008 Year in Review Quiz" on The National Post - s

ome interesting questions.
In the year-end Google Zeitgeist for 2008, the top 10 Canadian search terms were: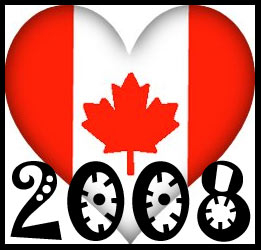 facebook
youtube
lyrics
weather
games
google
hotmail
yahoo
map
canada
I find it quite funny that the number 6 most popular search term on google is "google." !!! What is the world coming to!!?! I'm not surprised that "weather" is at number 4. I have searched for that quite a few times over the last few days. It's pretty damn cold right now, and knowing exactly how cold it is seems to make it a little better. :)
BargainMoose recap:
So here we have a brief recap to reminisce about the popular deals and bargains which we saw on BargainMoose in 2008.Since I started the blog in August 2008, the top 5 most popular articles in terms of hits were:
You guys really liked those Michaels coupons, eh!? They're taking 2 of the top 5 slots! The most popular phrase that brought people to Bargainmoose was actually "michaels craft store."
For those of you who are already subscribed to the RSS feeds and the email updates, the story is slightly different, with these being the top 5 most popular:
So here's looking forward to another year of mega-deals, steals and discounts! Happy 2009!! :)