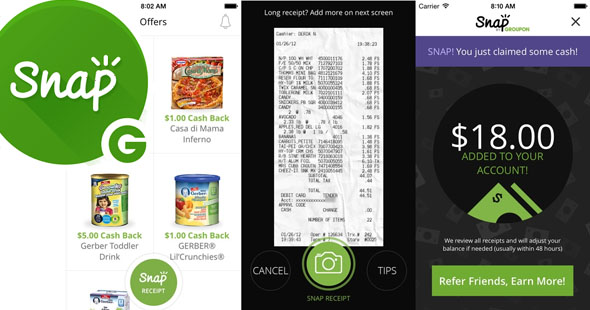 If you have Snap - Groupon's cash-back app - you may have received an email regarding the changes the program is about to undergo. Launched in 2014, Snap offers cash back for different groceries purchased when customers upload applicable receipts but all that is about to change.
Starting March 1, Snap will instead include Groupon's inventory of digital offers from retailers throughout Canada and the US, rather than product-specific rebates. They're also scrapping the cash back portion of the app -- essentially the point of the app in the first place.
If you have at least $20 in your account, you need to cash out by the end of the month by requesting a cheque. After March 1, customers with a balance below $20 will not be able to request a cheque but will instead receive an equivalent amount (rounded to the nearest $5) in 'Groupon Bucks' to be used towards a Groupon promotion before September 1. App users were also informed that accounts will be automatically created on the Groupon website using the Snap app's registered email address (provided one doesn't already exist) but you are able to opt out of this by following the link in the email announcement you received.
I think this is really too bad. These days, everyone needs a little help saving money - even if it's a quarter or two here or there - and cash back apps are a great way to do that. I think retailers might miss out a little bit too. Although Snap isn't the only cash-back app, it is very popular.
What do you think of these changes, Moosers? Do you have enough money in your Snap account to request a cheque or will you have 'Groupon Bucks' issued to you? Tell us what other cashback apps you'll be using instead for our readers that may have not heard of them!