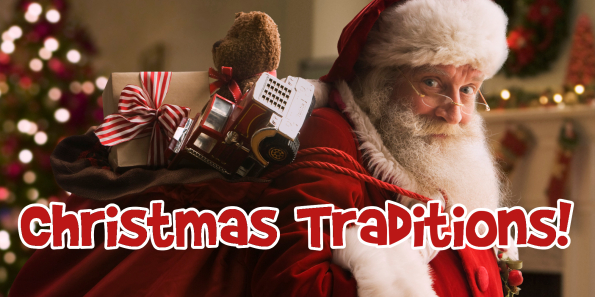 While most of us leave out milk and cookies for Santa, there are quite literally hundreds of different tradition and tricks for Christmas. If you want to change things up a little bit this year, then check out these last minute Christmas tradition ideas that I have gathered to share with you. You can use different traditions each year or use the same one every year to build a tradition and memories that your children will carry with them. Traditions are a great way to bond with the family, and you can even create your own traditions if you so wish. From treats to stockings, let's take a browse at some of the popular traditions from around the world.
Treats for Santa
Kids around the world leave out different treats for Santa. So why not step into a different culture and try a different treat for that jolly old man? In the USA and Canada, we generally leave out milk and cookies. Perhaps some carrots for the reindeer too? In Australia kids leave a nice cold beer for Santa! I think Santa would be drunk very quickly! In Sweden Santa is greeted with coffee at each child's house. Here are some other food ideas for Santa from around the world:
Denmark - bowl of risengrod or rice pudding
The Netherlands - carrots, hay, water for the "horse" instead of reindeer.
Germany - personalized letters
France - children leave biscuits and carrots in their shoes
United Kingdom - mince pie filled with dried fruit and a nip of sherry
Ireland - pint of Guiness and maybe a mince pie
Argentina - hay and water
Chile - sponge rum cake
Pajamas
Some families provide their children and the adults with brand new pajamas. Everyone wear their new pajamas to bed and gets to open their presents in brand new pjs when they wake up in the morning. I love the feeling of fresh, new pajamas! New pajamas may also make it easier to tempt your child into bed a bit early.
Reindeer Dust
As a kid, my parents always sprinkled Magic Reindeer Food on the lawn so that Santa's reindeer would be able to find our house. Now I have come to realize that they just mixed about one cup of porridge oats with two teaspoons of glitter to make this stuff I went crazy for. So mix your own and then you can sprinkle it in your garden or on your driveway with the kids to attract Santa's reindeer. Don't forget to clear some of it up though, if the wildlife around you doesn't eat it. My parents even went as far as drawing reindeer footprints in the snow around it. Clever folk! If you would rather it be edible for yourself, then you could always snag some trail mix from the local grocer.
Letter From Santa
Why not leave a letter from Santa for your child? Write down what the child has done that was very good throughout the year, and what has made them deserve their visit from Santa. Tell them to keep up the good work, and that Santa looks forward to visiting next year. Santa can also write a thank you for his beer and carrots for the reindeer.
Track Santa
Earlier in the month I told you Moosers about the NORAD Santa Tracker, which is always fun to watch with the kids. I just checked it with my son, and we were told that Santa is getting quite close to us. Now my son wants to go to bed and wait for Santa, hurrah! Now you and your kids will be able to follow Santa as he makes his magical adventure around the earth from North Pole. The NORAD Santa Tracker has music, games and so much more for you and your child to explore. The NORAD Santa Tracker has been around for sixty years now, and it has become a part of the tradition for many families around the world.
Stockings
Don't forget to fill up those Christmas themed stockings to hang them up! This tradition you probably already know about, but just in case I will remind you. Do you fill your child's stockings with treats and toys or toiletries and necessities? My son has a nice mixture waiting for him this year. I can't wait to watch him dump it out!
Moosers, what are  your favourite Christmas traditions?