There's a "freebie" doing the rounds on some Canadian forums and Facebook pages and we wanted to raise some concerns – it's from a company called Baby Box Canada, also known as Babyboxcanada.org.
You have probably heard about Baby Boxes - numerous reputable news sites and Facebook pages are talking about the Baby Box that has finally come to Canada. It is said that you can claim The Baby Box as a freebie and you will get a box stuffed full of baby products and goodies. The Baby Box started in Finland and has been a popular tradition for 75 years. It was sent out to moms a few months before their baby was due, to provide them with some necessities to get started. The boxes usually consisted of toys, clothing, diapers and more. The Baby Box is even said to have been a "starter crib" with a mattress in the bottom.
But these news stories do not refer to this particular company - Babyboxcanada.org. There are websites out there that jump on popular ideas from the media and try to capture valuable personal information, but not actually do what they say they are going to do. This is always a concern for me when it comes to freebies.
Below you will find all the reasons why I won't be signing up to receive a free Baby Box from Babyboxcanada.
The Website
The website BabyBoxCanada.org advertises that expecting moms can sign up and that they will receive their free Baby Box two months before their child is born. While their website is professional looking, it lacks a lot of details which concerns me. The contact page is just a form and they have provided us with no phone number, company information or even an address. Unusual, right? That was my first red flag - mostly because I wanted to call and confirm this freebie before telling you guys about it.
Whois Lookup
Once I figured out that I was concerned about the website, I decided to look into it. You should always do a "Whois" lookup on websites that you are unsure of - it will give you all the information about the domain. So check out the Whois information on BabyBoxCanada.org. The first instant red flag you will see is that the domain was registered on the 11th of January 2016 (very recently) to an anonymous proxy. That means nobody can see the true details of who the site may be registered to. There is no associated email address for the company itself, no address and no phone number.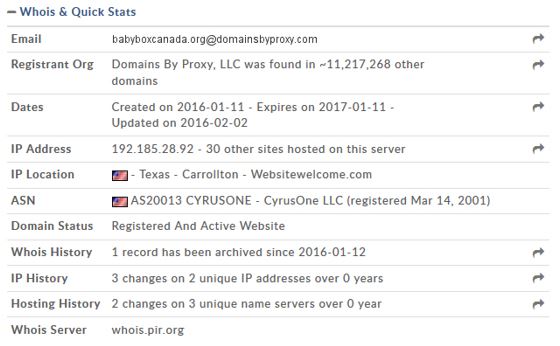 Social Media Presence
On both the Twitter and Facebook page for Baby Box Canada, there are very few "followers" or "likes" which is another red flag for me.
Google Presence
Now, when I googled for information regarding the Baby Box Canada, I saw a lot of reliable media sources like CBC and Huffington Post writing about this topic. So with a quick glance it looks good, right? But if you actually click in and start reading the articles -  they all point to a completely different company and website. Instead they talking about "The Baby Box Co" which has absolutely nothing to do with Baby Box Canada.
Also on Google, there are a number of links to other popular websites but the content has actually been removed from their site - which is also a concern (e.g. Reddit, Babycenter.ca).
I also couldn't find anything on Google about anyone successfully receiving this freebie, though I do know that it has not been around for all that long.
Concerns Over Content
Yesterday, here was a screenshot of one of the pages on their site: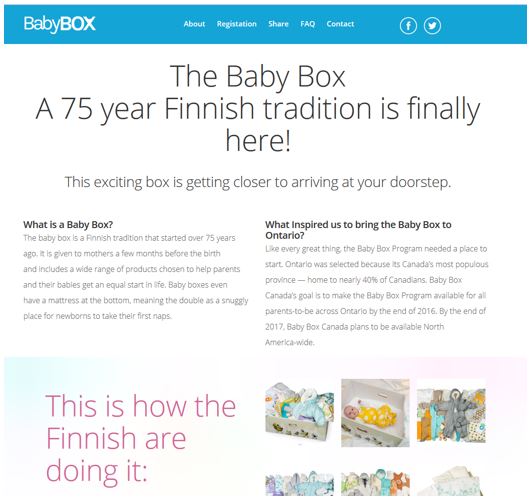 And now, this page is totally different and they have removed all the images of "How the Finnish are doing it."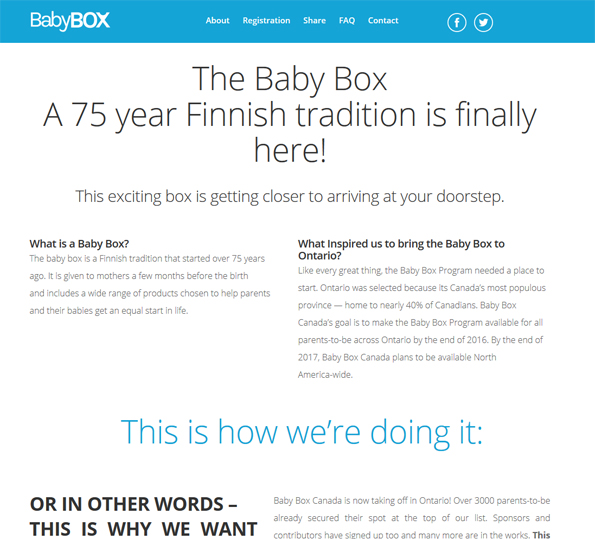 Now that some people have mentioned concerns on the Baby Box Canada Facebook page, it seems they have changed things up on both their home page and their Facebook page. You can see in the image below that their Facebook page was founded on the 4th of January 2016. They have, however, backdated posts and images all the way back to September 2015... also a concern.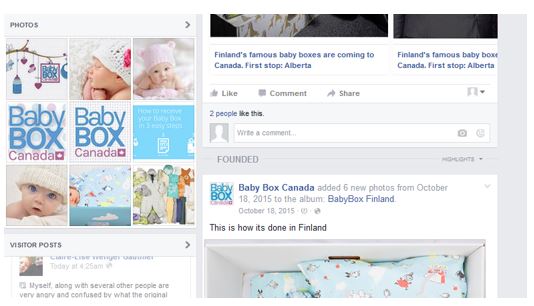 On their Facebook page you can also see plenty of people voicing their concern about this company's authenticity. Take a look at this specific post on Baby Box Canada's timeline: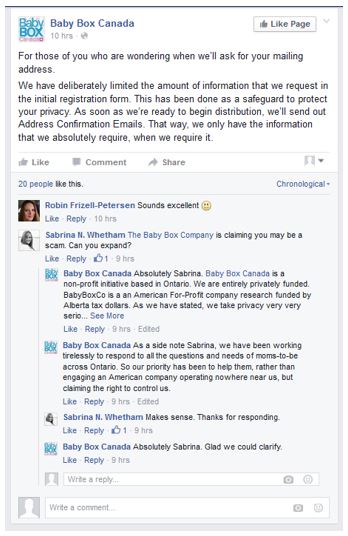 Issued Warnings
The Baby Box Co posted a warning on their Facebook page stating that they are not affiliated with this Baby Box Canada link that is circulating around everywhere. The Baby Box Co. also feels that there is cause for concern, and urges people to withhold from providing this company with their personal information. Here is their warning:
**ATTENTION MAMAS IN CANADA**: We are the company that supplied the Baby Boxes for the Welcome to Parenthood program in Alberta and it's become necessary for us to issue a warning: we are NOT currently associated with the babyboxcanada.org link circulating. We wish to urge caution in signing up on this site as we have reached out to them multiple times for more information without response, as have representatives with the Canadian government and Health Canada. The Baby Box Co. (babyboxco.com) is the only safe-certified provider of Baby Boxes in Canada, so it is very suspect that this new site is using photos of our products without permission and being non-responsive to inquiries. There is also no record of them as a registered non-profit in Canada. We like to think the best of everyone and hopefully this is a legitimate giving group—that would be wonderful! But until our team verifies the authenticity of this site, we would not recommend giving babyboxcanada.org your personal information. If we do verify their intentions and this is not a data mining scheme, we will let you all know promptly. Thank you for supporting Baby Box initiatives and stay safe, friends!!!
Taking all of this information into consideration, what do you think of the Babyboxcanada.org freebie? Have you given them your details? Would you?