Santa's sleigh isn't the only thing rolling through town this Christmas. The CP Holiday Train is back, and it's set to make stops in cities across Canada this December.
If you've never seen the Holiday Train before (or this is the first time it's stopping in your town), you're in for a treat. It brings a night of lights, music and Christmas magic – and the stop schedule for 2018 is out now!
There are two trains operating in Canada. The first (the US Train) left Montreal on Nov. 25 and will travel through Quebec, New York and southern Ontario before continuing its trip through the United States. A second train (the Canadian Train) travels west from Montreal through Ontario, Manitoba, Saskatchewan, Alberta and BC.
The trains are already rolling through Canada, and they'll tour the country for most of the month, concluding their journeys on Dec. 16 (the US Train) and Dec. 18 (the Canadian Train).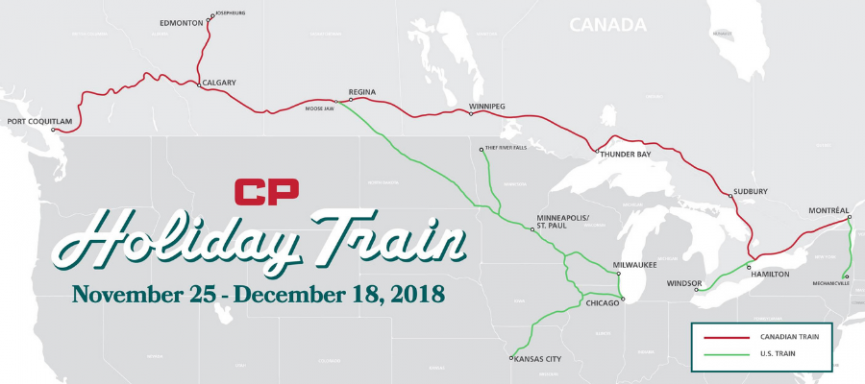 My family checked out the Holiday Train for the first time last year, and it really is a cool experience. The train arrives at its "parking" space, the stage door lowers, and a band on board starts playing!
You can listen to the music and take in the lights for free, but CP does ask that attendees contribute either non-perishable food items or monetary donations to local food banks. There will be representatives from your town's food bank on-site to collect donations while the train is stopped.