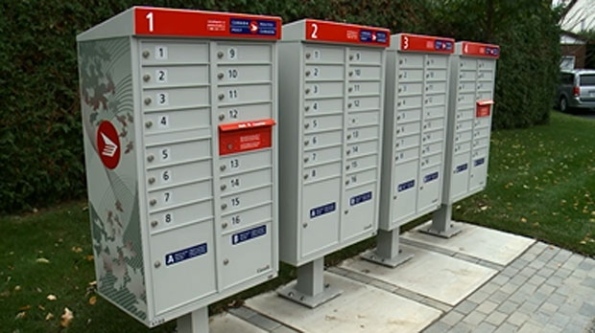 So here's a curve ball that may bring you some good news. Since the Liberals won our recent election, Canada Post is in discussion with the government to put a stop to installing new community mailboxes. For now Canada Post has temporarily suspended the conversion, so you will have to stay tuned for more updates regarding this issue.
On Monday there was a news release issued by Canada Post spokeswoman Anick Losier. She said that Canada Post is trying to work together with our Government to determine what path is best in regards to the postal system. It seems like a waste doesn't it? They just installed so many community mailboxes and now they have decided to stop? If your area has already converted to the new community mailboxes, then it will stay that way. This discussion will only apply to those who have not already converted to the new system. Darn! I wish my home was still in the door-to-door area. There are roughly 460,000 addresses across Canada that are in a process to be converted.
If you happened to have received a notification that says your home is on the verge of being converted over to a community mailbox set up, then you may be in luck. If your notice stated that you will be converted between November 2015 and January 2016 then don't fret. You will continue to receive your mail as a door-to-door service until Canada Post and the Government have finalized any decisions.
I really do miss my door-to-door service, although my toddler enjoys checking the mail on a daily basis. He sees it as a reward, which makes my life more simple in some ways. I tell him if he uses the potty all day that we can walk and check the mail after dinner. That reward seems to be a hit for now, but I don't think it will be enjoyable once the snow hits.
Moosers, do you prefer door-to-door or community mailboxes?